Steelwork specialist overcomes tough market and is set to diversify into new sectors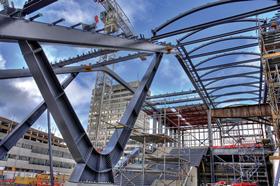 Bourne Group has weathered tough market conditions in the specialist steelwork sector to report a profit in every year since the financial crisis began, the firm's chief executive has said.
Speaking to Building, Steve Govier said his Poole-based firm has performed particularly well over the past 15 months.
In its last full financial year to 31 October 2013 the firm grew revenue by 40% to £44.5m and pre-tax profit by 80% to £900,000.
The firm is also trading strongly in the first three months of the current financial year and is forecasting a 24% increase in turnover to £55m and a 44% increase in pre-tax profit to £1.3m.
Govier said the firm plans to increase its workforce by 20% this year to 180 staff and is "gearing up to take advantage of growth in all sectors, with investment in skills across the whole spectrum".
Govier, who is also chair of the British Constructional Steelwork Association (BCSA), acknowledges the specialist steelwork sector has experienced a "tough" seven years.
The collapse of £68m-turnover Welsh steel contractor Rowecord last April, alongside profit warnings, cost overruns and a change of chief executive at the UK's largest steelwork contractor Severfield-Rowen, have grabbed the headlines for the steelwork sector over the past two years.
But Govier says the steel sector is "in good shape".
"There's a perception that the steelwork industry is in turmoil. But I'm here to say that's absolutely not the case.
"A number of firms are in good shape and have the capacity to take on the work that's now coming through. The steelwork industry is ready to take on these challenges."
Strategy
The bulk of Bourne's business is in designing and manufacturing steelwork buildings, with recent major jobs including Blackfriars, Farringdon and Reading (pictured) stations and five waste-to-energy plants.
But Govier said a key part of the firm's strategy is to continue to diversify into "high-value products and growing demand", including strengthening its modular building and car park-building divisions, which currently turn over £6m and £15m respectively.
The firm is also aiming to increase its market share in major London commercial projects, after forming a joint venture, BS2, with fellow steelwork contractor Billington in 2011.
BS2 has secured one undisclosed shopping centre project and is currently tendering for another major scheme.
Govier said BS2 allowed Bourne and Billington to compete with the two largest steelwork contractors, Severfield-Rowen and William Hare, which currently dominate the major steelwork projects market.
"It puts us on a level playing field so we can compete with them. BS2 brings together our complex engineering expertise and Billington's capability as a large volume manufacturer.
"It also gives us the combined balance sheet strength for tendering major projects."
Surviving the recession
Despite growth over the past 15 months, Bourne Group's turnover is well down on its pre-recession peak of £63m.
However, Govier said Bourne managed to remain profitable during the subsequent five years.
"We took a conscious strategy to get ahead of the market and cut back capacity," he said.
"Some of those cuts were pretty unpopular but the board knew it was necessary – I've personally seen three recessions and our chairman has seen four."
The cuts included cutting 60 jobs, around a quarter of Bourne's workforce.
Govier said the firm was also "careful who [it] worked for" and avoided "contractors taking on work at lower margins."
"We aligned ourselves to clients with similar values," he said.