Deal offers "excellent opportunities for expansion" says Leicestershire firm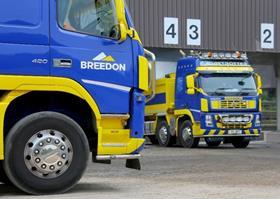 Breedon has snapped up Northern Ireland-based materials manufacturer Lagan Group for £455m.
Leicestershire-based Breedon had revealed in February it was in talks to buy the firm and today announced the deal was going ahead.
It plans to finance part of the asking price via a share placing that it hopes will net it around £170m, plus a new £150m medium-term loan and funds from a new revolving credit deal worth £350m.
Lagan, which is separate from Lagan Construction Group, run by Michael Lagan and which in February put four of its 30 compnaies into administration, operates a cement plant in Kinnegad and has nine active quarries, 13 asphalt plants and nine ready-mixed concrete plants.
In the year ended 31 December 2017, it generated revenue of £249m and earnings before interest, tax and depreciation of £46m.
It has a number of offices across Ireland as well as offices in Manchester and Livingston in Scotland as well as outposts in the US and Dubai.
Breedon and Lagan subsidiary Whitemountain already operate a joint venture in asphalt.
Pat Ward, Breedon's chief executive, said Lagan was well run, well invested and had a strong track record.
He added that it represented "a unique opportunity to enter a growing market with immediate scale and excellent opportunities for expansion".
Ward said the deal would "significantly strengthen" Breedon's cement business, "adds to our mineral and downstream resources, brings us a bitumen import/export business and adds real weight to our contract surfacing operations."
Breedon employs 3,000 staff and in 2016 reported turnover of £455m and a pre-tax profit of £47m.
Lagan Group's Lagan Homes business is being retained.