Materials company says it is in talks about buying large part of Northern Ireland firm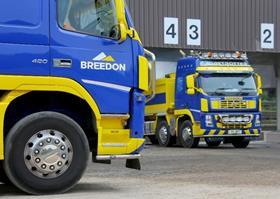 Materials firm Breedon is in talks about snapping up Northern Ireland firm Lagan Group.
In a statement to the Stock Exchange this morning, the Aim-listed firm said it "can confirm that it is in discussions with Lagan and its major shareholders in connection with a possible acquisition of a substantial part of the Lagan business".
The £350m turnover Lagan business works across a number of sectors including building, civil engineering and plant.
It has a number of offices across Ireland as well as offices in Manchester and Livingston in Scotland as well as outposts in the US and Dubai.
Breedon and Lagan subsidiary Whitemountain already operate a joint venture in asphalt.
Based in Leicestershire, Breedon employs 2,300 people and has around 60 quarries and 30 asphalt plants. In its last set of results, turnover at the business jumped 43% to £455m in 2016 with pre-tax profit up by half to £47m.