Growth at weakest for 10 months
Output in the construction sector has fallen to its lowest point in close to a year, with the impending Brexit deadline blamed for the decline.
All three categories of construction, new residential, commercial and civil engineering, recorded weaker trends than those reported in December, according to the latest IHS Markit/CIPS survey.
The pair's PMI index registered a score of 50.6 in January, down from 52.8 in December, with the January data pointing to a loss of momentum for the UK construction sector, with business activity growth grinding to its weakest for 10 months.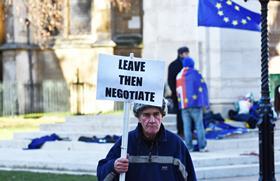 According to the survey, a number of respondents said Brexit uncertainty had led to hesitancy among clients and a corresponding slowdown in progress on new projects.
The commercial sector was the weakest performing area, with the latest data indicating a decline in work for the first time in 10 months.
Commenting on the results, Brian Berry, chief executive of the Federation of Master Builders, said: "The ongoing political uncertainty is partly to blame for this set-back.
"Political uncertainty is the enemy of construction firms that rely on the spending power of homeowners to commission home improvement projects.
"The UK is set to leave the EU next month and yet we are still none the wiser about what the future holds. Given these intense headwinds, it should not be surprising that the sector suffered such a sharp decline."
And the Federation of Small Businesses national chairman Mike Cherry added: "To be less than 60 days out from Brexit day and still have no idea what business environment we'll be operating in on 30 March is completely debilitating."
Max Jones, relationship director in Lloyds Bank's commercial banking infrastructure and construction team, said London's construction sector was suffering the most from the Brexit uncertainty,
He said: "It's clearly a pivotal year for the UK and Brexit is coming up more and more in conversations with construction clients, as they express concerns that projects are increasingly being affected by the uncertainty.
"London feels particularly exposed, with evidence clients are holding off in the commercial sub-sector in particular until there is more clarity over the final terms of the agreement with the EU.
"While the suggestion is that regional cities like Birmingham, Manchester and Edinburgh are more buoyant, it's not clear that there is enough activity to pick up the slack from the capital."