Construction reacts to the historic vote and Building analyses what it means for the sector
What's your view on the referendum result and what it will mean for construction? Get in touch, email building@ubm.com
4.15pm
The chairman of JCB, one of the few construction-related firms to back Brexit, has issued a statement urging business to "look to the future" after the referendum result. He said: "The UK is the world's fifth largest trading nation. We therefore have little to fear from leaving the EU. European markets are important to many UK businesses, including JCB, and this will not change."
2.45pm
Market turmoil has hit the US - Shares in New York have fallen, with the Dow Jones industrial average dropping 2.3% and the S&P 500 off 2%, while the Nasdaq is 3.8% lower.
2.18pm
Morgan Stanley has already begun the process of moving around 2,000 London investment banking staff to Dublin or Frankfurt, sources have told the BBC. If this is an early indicator of how financial firms in the capital will react to the referendum result it will spook construction firms, particularly those that are exposed to the London commercial sector.
1.44pm
Tony Giddings, former Argent construction director and now T Clarke board member, tells Building: "It will obviously have a bad effect on our economy for many years and the property industry will be particularly negatively affected.
"As a nation we should be reaching out for collaboration and unity not concerning ourselves with sovereignty and unnecessary worries over immigration. In the long term we will have to see where the decision takes us."
1.13pm
Businesses will have to make the UK's withdrawal from the EU work, the CBI's director general Carolyn Fairbairn has told the BBC. She says re-negotiation will be challenging as their is no existing model without free movement of labour, but adds: "We can give a more reassuring message (than sadness at Brexit). Business is good at getting on with things."
12.22pm
The prospect of a new occupant at Number 10 - and the bookies' early favourite is of course Boris Johnson - could have implications for major public projects such as HS2 and a third runway in the South-east. Yoosof Farah analyses what a change in leader could mean for Cameron and Osborne's favourite pet projects.
12.21pm
More fun and games at Westminster - there has been a motion of no confidence tabled against Jeremy Corbyn as Labour leader.
12.20pm
Investors have already made their views on the housing market clear via the London stock exchange, with housebuilder share prices crashing more than 20% in early trading. All eyes will be on house prices over the coming weeks and months, will they crash too. Richard Donnell, insight director at Hometrack, says: ""The decision to leave the EU will be most keenly felt in the London housing market which is fully valued and already facing headwinds. History shows that external shocks can reduce sales volumes by as much as 20% with sales volumes already down over the last year."
12.09pm
The FMB, which represents SME builders, has shared its views on what Brexit could mean for the labour market and warns of a potential "skills catastrophe" if the government manages this badly. Its chief executive Brian Berry says: "At present, 12% of the British construction workers are of non-UK origin. The majority of these workers are from EU countries such as Poland, Romania and Lithuania and they have helped the construction industry bounce back from the economic downturn when 400,000 skilled workers left our industry, most of which did not return. It is now the government's responsibility to ensure that the free-flowing tap of migrant workers from Europe is not turned off. At the same time, we need to ensure that we invest in our own home-grown talent through apprenticeship training. We need to train more construction apprentices so we are not overly reliant on migrant workers from Europe or further afield. It's no exaggeration to say that a few wrong moves by the Government could result in the skills crisis becoming a skills catastrophe."
12.05pm
David Marks, of London Eye architect Marks Barfiled, is dismayed at the result: "The referendum has exposed deep divisions within British society. The result does nothing to help Britain address the real issues of climate change, feral free-market capitalism, and increasing inequality".
12.01pm
Central London resi specialist LCP, which is an advisor focusing on prime central London, is surprisingly predicting a rise in property rises in the area after the stalls of recent months. Naomi Heaton, the firm's chief exec, says: "It is now likely that property prices in Prime Central London will increase. Whilst LCP had originally predicted that this would not occur until 2017, the signs are that the re-entry of investors into the market will be more rapid than originally expected. LCP have received a stream of enquiries from the early hours of this morning." Heaton says overseas buyers are attracted by the security resi in this part of London brings.
11.59am
RICS reacts, here's their head of policy, Jeremy Blackburn: "There are questions around the impact on access to a skilled workforce to meet the country's construction and infrastructure needs. We need reassurance that workforce migration will be addressed as a priority and it must not be allowed to impact on the attractiveness of the UK for investment, or as a place where major corporate and industrial occupiers want to do business.
11.51am
London-focussed fit-out firm BW has joined calls for "a period of calm". The firm's sales and marketing director Anthony Brown has also called for a general election, which is far as we can tell is a minority opinion at the moment, but it will be interesting to see how widely this call is made during the coming days. Brown says: "With the exposure of such a deep chasm within the electorate and in our government, a General Election is necessary for a new government to secure a comprehensive mandate."
11.49am
Another huge development as the SNP's leader Nicola Sturgeon says she will begin legal preparations for a second Scottish independence referendum.
11.41am
Here's more reaction to the Brexit vote from architects, including Rogers Stirk Harbour + Partners and Adjaye Associates. A lot of dismay and anger - our survey last month found 78% of architects wanted to remain in the EU.
11.24am
As was discussed widely in the build-up to the referendum, the UK construction sector relies on - and many in the sector believe is stronger for - workers from mainland Europe. Over at our sister publication BD, architects are sharing their views on Brexit and what it might mean for their practices, including their European staff. Chris Metland told BD: "3/4 of our team are from central and southern europe. We have had open discussions here this morning about what happens next. To be frank, they are worried. They have had calls from friends over night about when they are going home, they have seen what recessions can do it their home countries and fear for us but most of all they have expressed a genuine pity for the country and overwhelming sadness that the UK is no longer to be with them."
11.11am
Our editor Sarah Richardson has posted her reaction to the referendum. Here's an extract: "What businesses will need to do over the coming days, amid the rush to understand the longer term implications of the vote, is at least push for visibility on those projects that have been on the go slow. The wider economic picture will not emerge for months and not fully for years, but whatever the ultimate impact – good or bad – the UK and its new prime minister will still need delivery of vast amounts of housing, infrastructure and commercial work over the decades to come."
11.06am
More reaction coming through - a lot of people in construction appealing for calm and stability. What odds on that? Contracting authority Scape raises fears major public schemes like HS2 could now be at risk - Boris Johnson has always been more lukewarm in his support for HS2 than Cameron or Osborne…
Mark Robinson, chief executive of Scape, says: "With the financial markets and economy set to be turbulent, perhaps for some time, the public sector now faces the prospect of further government spending cuts on top of the very significant pressures they have already been put under.
"Long-term projects, like HS2, could now be at risk from the economic fallout of the result."
And here's Aecom's UK and Ireland chief exec Patrick Flaherty: "It is critical that the domestic agenda is not sidelined as the UK faces a minimum of two years of negotiations to leave the EU. Focus must remain on energy security and energy independence, as well as progressing the UK's ambitious infrastructure pipeline.
10.56am
Reporter Louise Dransfield has written a round-up on all the share price drops so far this morning - Housebuilder shares crash more than 20% after Brexit vote. Tony Williams, analyst at Building Value, says the large drops in share prices was a "knee-jerk reaction" to the news on what he called "a dark day" for the UK.
10.28am
Alan Brookes, the UK chief executive of Arcadis - the Dutch engineer that in recent years bought UK consultants EC Harris and Hyder - comments: "Construction markets are likely to become more volatile in the short term, and we need to consider a joined-up approach to sustaining the capacity and capability of the industry.
"Although demand is likely to fall in some sectors this could actually take some of the pressure off over-stretched markets. Ultimately the UK needs to keep building. Housing and infrastructure, for example, may now be able to secure capacity at a lower cost."
10.19am
"This is a sad day for our country and our industry," comments Richard Steer, chairman of Gleeds Worldwide. "Undoubtedly this decision will bring instability and at least two years of delay and stagnation not least of which because it has thrown in doubt the future of the current government with the resignation of the Prime Minister. This is likely to return us to a recessionary period. We will all be losers following the result of a referendum instigated for reasons of politics which was unwanted by the majority of those operating
in the built environment."
10.13am
KPMG warns the vote is likely to prompt a "general dip in occupier demand", particularly for financial services firms. Andy Pyle, UK head of real estate at KPMG, says: "Given the potential for banks to need to transfer business undertaken in London into the Eurozone, we could see a particular decline in London's dominant position as Europe's leading financial and business centre, which would impact real estate demand in the City in particular."
10.08am
Melanie Leech, chief executive of the British Property Federation, comments: "The priority for the government and the Bank of England must now be to stabilise the position and maintain confidence in the UK. The negotiation process is going to be long and complicated, and there will be many unknowns ahead. Our priority is that the government maintains focus on existing national priorities such as housing and that it makes decisions on major infrastructure projects, such as airport capacity and maintaining momentum around HS2, swiftly."
10.01am
The RIBA reacts. Its president Jane Duncan says the institution will "continue to ensure that our profession has a bright future, whatever the operating environment". She adds: "Clearly there is uncertainty about the timescales and impact on a range of issues important to our industry including free movement in the EU for architects as well as students, trading and material sourcing, inward investment relationships, EU procurement rules and the effect on the construction sector if restrictions are placed on EU migration."
9.43am
Building reporter Yoosof Farah has compiled an at a glance guide to what Brexit could mean for construction, including the likely impact on labour, materials and investment.
9.29am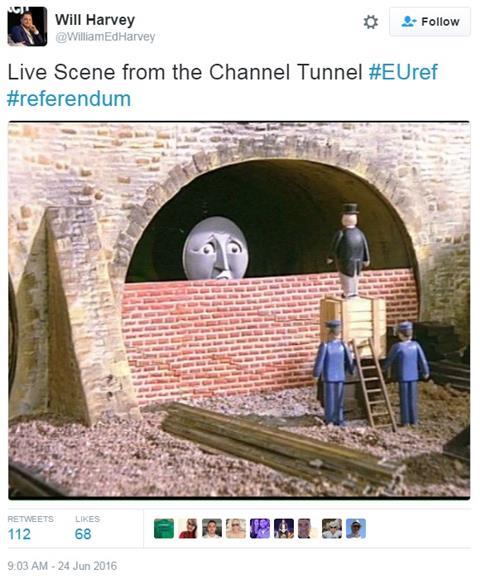 9.19am
What does the result mean for Scotland and Northern Ireland? Both voted in favour of Remain, Scotland by 62% to 38%, Northern Ireland by 55.7% to 44.3%. Both are actually more in favour of the EU now than they were in 1975 when Britain last voted on EU membership. The SNP's former leader Alex Salmond has already called for a second Scottish independence vote, while in Northern Ireland Sinn Féin has called for a poll on a united Ireland.
9.14am
The Bank of England governor Mark Carney has sought to calm market fears this morning. The bank has put in place extensive contingency plans to mitigate risks to financial instability brought about by a Brexit, he says. "As a backstop, and to support the functioning of the markets, the Bank of England stands ready to provide more than £250 billion of additional funds for its normal market operations," he adds. "The Bank of England is also able to provide substantial liquidity in foreign currency if required. We expect institutions to draw on this funding if appropriate."
9.05am
And now the developers… The FTSE as a whole has rallied slightly, it's down around 5% now on opening, so the developers and housebuilders in particular are being hammered much more than many other listed firms.
Derwent London - down 18%
British Land - down 16.9%
Great Portand Estates - down 16.2%
Land Securities - down 14.9%
9am
Let's take a look at where the listed firms' share prices are going - the answer, is South. The housebuilders are getting hit hardest:
Taylor Wimpey - down 22.7%
Bellway - down 21.4%
Barratt - down 21.2%
Crest Nicholson - down 21.2%
Persimmon - down 20.7%
Berkeley - down 19.7%
Bovis Homes - down 19.5%
Galliford Try - down 16.9%
Carillion - down 8.9%
Balfour Beatty - down 9%
Morgan Sindall - down 5.7%
8.35am
Prime minister David Cameron has resigned - he will step down by the time of the Conservative party conference in October. He said he would attempt to "steady the ship" over the coming weeks and months.
7.55am
Wow. We have a Brexit. The ramifications for the UK's economy and politics will be profound and are already being felt - the pound has crashed in value and the FTSE is set to take a huge hit today. The impact on business is likely to be significant, and nowhere more so than on construction. Industry leaders prior to the vote predicted that a vote for Brexit would impact on investment, business confidence and a labour market heavily reliant on migrants from mainland Europe. Reaction is already coming in, here's a sample of it…
"A new era dawns," says Victoria Peckett, head of the UK construction team at international law firm CMS. "But things will not change overnight. In the short term, no real change will take effect until the second half of 2018 at the earliest - and the likelihood is that we're looking into the next Parliamentary term. An immediate effect on regulatory law is improbable; withdrawal negotiations will be painstaking in their desire to ensure any potential damage to UK businesses is kept to a minimum and, in addition, the UK needs to negotiate access to markets that are subject to the EU law. The construction sector is particularly reliant on European workers; in the longer term, the industry is likely to push the government hard for a quota system allowing labour to enter the market at least until skills shortages have been reduced. Change certainly casts a shadow of uncertainty - but it also opens a door to new opportunities and new markets."
Richard Beresford, chief executive of the NFB, says: "While we have a decision, there still remains economic uncertainty. What we need now more than ever are clear heads making decisions for the long term. Every £1 invested in construction generates £2.84 in wider economic benefits. This is the very time to show that the UK has the industrial capacity and intellectual capital to thrive outside the EU."