Patrik Schumacher says UK should seize its moment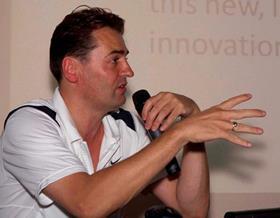 Brexit offers the UK a "great opportunity" to become a more enterprising and successful country, but must now seize it, according to the boss of Zaha Hadid Architects.
Patrik Schumacher (pictured) - who took on the mantle of leadership at the 400-strong practice after Zaha Hadid's death earlier this year - told an event on the future after Brexit in London last week he was excited by the referendum outcome.
He said: "The UK's creative industries will continue to be even more potent after Brexit. There will be more enterprise and entrepreneurship, which were endangered and hampered by the EU.
"The EU meant bureaucracy, over-regulation, stifling, over-protection – it's very healthy to pull away from that."
But Schumacher was worried Brits would not seize their moment: "I'm doubtful it will be picked up at the moment, but at least there's a chance."
The German-born architect said he hoped Brexit would spark the break-up of other "large states", giving as examples the remaining European Union bloc, Italy, Germany and the UK, adding: "I'm all for an independent Scotland if that comes back on the table."
Schumacher was speaking at a Post-Brexit: Creating the Future debate at London's The Building Centre and organised by creatives group New Narratives.
Schumacher said Zaha Hadid Architects had been frustrated in its efforts to hire architectural talent from outside the EU, arguing: "The numbers have been swamped by European migrants. It's blocked talent from elsewhere. Hopefully Brexit will open it up to those talents we really need."
He trumpeted the UK's creative lead over its European rivals, saying: "We created a global design firm. It couldn't have existed - indeed it doesn't exist - in any other European country. It couldn't exist in Germany."
He blasted what he described as the "huge fallacy" that open markets require lots of regulation: "I love the common market and open markets. They don't have to be accompanied by pervasive rules and a bureaucracy that's one size fits all. It's a huge fallacy.
"Does more freedom mean a race to the bottom? I don't believe that. The best protection is a fluid and open employment market. If there's too much interference you freeze up the market."
Schumacher hailed the positive potential of the private sector and argued the best thing the state could do was "get out of the way". He said "unemployment, lack of education, the housing crisis and pensions" were all areas where there was the "opportunity for the private sector to come in".
He praised the UK's "neo-liberalism" and what he saw as the positive impact of "Thatcherism after you'd had three days a week electricity in the 70s".
Schumacher's comments came after exclusive research published by Building last week revealed almost half of construction professionals have had projects put on hold or abandoned due to the Brexit vote.
The survey of over 500 industry professionals also found 72% believe Brexit will have a negative impact on construction in the short term, compared with just 10% who said they think it would be positive, with the rest saying neither. Over the long term, respondents had a more mixed view but still lean towards the pessimistic, with 42% negative, 33% positive and 25% neither.