Brexit-related projects are taking focus from major infrastructure jobs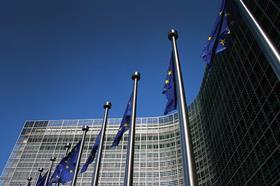 The pressure across government to make sure Britain is ready for Brexit could have a detrimental impact on long term major projects, the Infrastructure and Projects Authority has warned.
In its latest annual report, released last week, the IPA said the fact Brexit was looming was overshadowing a number of vital infrastructure projects in the UK.
The report said: "Ensuring the UK is ready to exit the European Union has resulted in a significant increase in the number of projects and programmes that need to be delivered across government."
Brexit-related projects are "high priority" and the IPA is having to provide "a supporting role at the centre of government" in terms of "project delivery support to meet EU exit challenges," it stated.
The past year has seen progress in delivering 26 major government projects, but "this is notwithstanding the significant amount of work underway to prepare for Britain's departure from the European Union," according to Cabinet Office minister Oliver Dowden and treasury minister Robert Jenrick.
The IPA said: "The Department for Exiting the European Union is coordinating more than 300 Brexit-related work streams across government."
In the introduction to the report, IPA chief executive Tony Meggs said the Government Major Projects Portfolio doesn't include "the 'mega-programme' that is EU Exit."
He added: "We are collaborating with other government functions to provide central support to EU Exit related projects. The pace of this work is increasing so it is reasonable to expect that this will have an impact on the broader portfolio of government projects in future."
This comes as more than one in three major projects are already in danger of failing. Some 35% of major projects were rated red or amber/red in 2017-18, up from 16% in 2013-14. This means that officials view the prospects of them being delivered either "unachievable" or "in doubt."
And the number of green-rated projects viewed as "highly likely" to succeed has dropped from 32 in 2013-14, representing 17% of projects, to just two in 2017-18 - representing less than 2%.
The past year has also seen a sharp drop in new projects being added to the portfolio, with just 18 in the past year compared to 36 in 2016-17. The slowdown in growth is "concerning" according to Andy Murray, partner at tax consultants RSM.
He said: "With parliamentary and departmental time diverted toward managing the Brexit process, it is hoped that time is not been taken away from much-needed strategic infrastructure and projects."