Amanda Levete fears losing staff because of uncertainties about EU workforce's UK status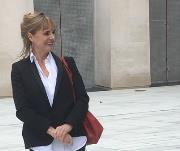 V&A architect Amanda Levete has said she is looking at opening an office in Paris, partly as a response to the "massive threat" Brexit poses to her practice.
The Stirling Prize winning architect (pictured), who last week celebrated the opening of her £50 million V&A extension in London, said the risk of losing her non-British EU staff was a serious concern.
Three-quarters of her 55-strong firm, which is behind plans to the remodel the historic Parisian department store Galeries Lafayette, are from overseas, with most of those European including the project director of the V&A, Frenchwoman Alice Dietsch.
Asked whether Brexit was a reason for a Paris office, she replied: "It would help." She added: "Psychologically for the people in my office who have made the massive decision to leave their home country and put down roots here, get on the property ladder and start families – they don't know what their status is.
"Some are very anxious and are talking about maybe going back. I don't want to lose them. We can't afford for that to happen. And it's not just our office. It's a massive threat to my practice – and to the discipline of architecture."
Levete was one of 20 leading architects who signed a letter to the Guardian insisting that EU citizens must not be used as bargaining chips and warning that Brexit would limit the transfer of knowledge and ideas.
Another signatory was Richard Rogers whose practice Rogers Stirk Harbour & Partners revealed last month that a large number of its non-UK employees are looking to become British citizens to head off the threat of being thrown out of the country because of Brexit.
Levete said the profile and status of architects in Britain had grown since the UK joined the EU – but that this was now under threat.
"One of the most important reasons is that the talent pool for architects increased tenfold so we attracted the very best talent from around the world and Europe," she said.
"We depend on this pan-European collaboration and I have very clear message to this government: do not mess with what we have got. Reverse Brexit.
"It's taken us decades to build this sense of mutual respect and collaboration and to attract the talent we need. It takes decades to build but just months to undo."
Last week, Redrow chief executive John Tutte said Theresa May's plans about the status of EU workers in the UK have done nothing to ease fears about a looming skills shortage in construction because of Brexit.
The housebuilding boss said May had left construction in the dark about the status of its workforce which is often transient.
He said: "The UK construction industry relies heavily upon a transient EU workforce and there's currently no clarity regarding this important area of policy."