AIM-listed firm paying up to £63m for Taylor Maxwell
Materials distributor Brickability is paying up to £63m through a shares placing for timber and cladding supplier Taylor Maxwell to put it on course to create a £500m turnover business in the next few years.
Brickability's bigger rival was set up in 1959 in Bristol and in its last set of results posted a turnover of £254m for full year 2021 and profit of £10.4m.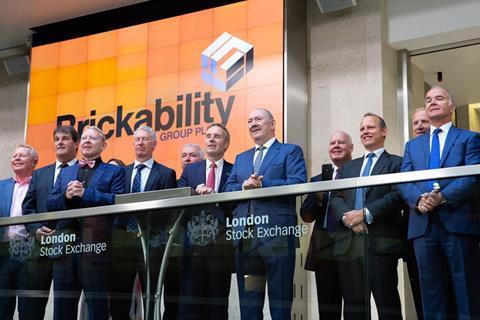 Around 60% of Taylor Maxwell's revenue comes from timber sales with around 30% from brick sales and 10% from cladding. The firm has 16 outlets across the UK.
Brickability, which listed on AIM in August 2019, has a 25 sites network and supplies over 300 million bricks annually as well as blocks, rain screen cladding systems, architectural masonry, paving, roof tiles and slates.
In its most recent trading update, the firm said revenue in the year to March would be around £180m and earnings more than £17m.
Brickability chief executive Alan Simpson said: "Taylor Maxwell is a business we have earmarked for acquisition since [listing] as we believe the union will bring significant short and long-term benefits to both companies and customers. Access to Taylor Maxwell's longstanding relationships, distribution channels and local knowledge will greatly improve Brickability's access to the UK marketplace while also delivering procurement, revenue and structural synergies."
The deal, which needs to be rubber-stamped by Brickability's shareholders at the end of the month, will see around 190 Taylor Maxwell staff join their new owner.
Brickability added that key Taylor Maxwell senior management will bolster Brickability's head office operations, including divisional directors and directors from finance, marketing and IT.