Judicial review into Boris intervention due by spring
Campaigners fighting plans by AHMM to redevelop Blossom Street in east London have been told a legal hearing into whether Boris Johnson acted lawfully by calling in the scheme will be held in the next few months.
An application for a judicial review into the London mayor's decision was made in November and in a written decision handed down by Mr Justice Collins this week, the trust was told a judicial review will now take place before May 5.
At the hearing, which will be held at the Royal Courts of Justice, a judge will decide whether to uphold or quash Johnson's intervention last September.
A spokesman for the developer British Land said: "We are disappointed with the judge's decision to allow the case to proceed to a hearing but remain confident of the final outcome. We hope that the hearing will take place as quickly as possible."
The trust says the mayor's move was "predetermined", with the mayor's office having told consultants working for developer British Land that he would call it in just a day after local planning authority Tower Hamlets refused it planning.
It says, following an FOI request, that Johnson had effectively decided to call in the application on September 10 last year – just hours after he received Tower Hamlets' letter and associated documents informing him of its decision.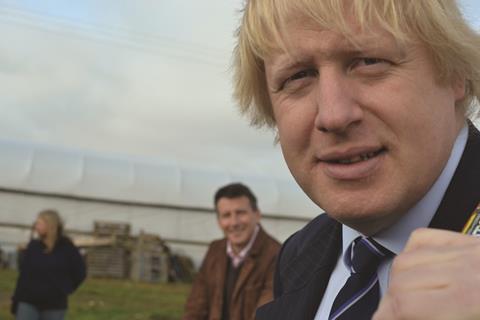 Earlier this month, Johnson granted approval for the redevelopment siding with developer British Land and masterplanner AHMM to clear the way for the 32,000sq m scheme which will include seven buildings, comprising mainly office space along with 13 retail units and 40 apartments.
Campaigners against the plans had pinned their hopes on an eleventh hour intervention by Troels Holch Povlsen, a Danish retail billionaire, who the Spitalfields Trust, which is leading the campaign, told the hearing has offered to buy the site – also known as Norton Folgate – from British Land.
But giving his decision to approve, Johnson said: "I have to say I see no sign of the mysterious Danish philanthropist. He has not made a serious offer."
British Land told the hearing that it wanted to get on with the scheme straight away.
Other architects working on the scheme include DSDHA, Duggan Morris, Stanton Williams and East who are all working on individual buildings.
British Land said a rival scheme put forward by Spitalfields Trust, drawn up by Burrell Foley Fischer, lacked detail, a claim which was refuted earlier this week by practice principal John Burrell.
Source
This story first appeared on Building Design