Developer says it will start work on AHMM-designed job 'straight away'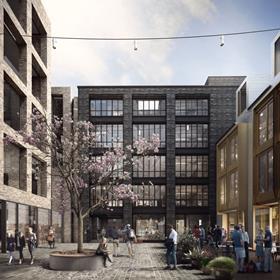 London mayor Boris Johnson has granted approval for the 32,000sq m Blossom Street office development in east London, despite a campaign by conservationists for him to follow the local planning authority's lead and turn it down.
A three-hour planning hearing at City Hall on Monday ended with Johnson siding with developer British Land and masterplanner AHMM to clear the way for the redevelopment which will include seven buildings, comprising mainly office space along with 13 retail units and 40 apartments.
Campaigners against the plans had been concerned over the impact of the redevelopment on historic Victorian warehouses on the site, which Johnson said he had persuaded British Land to retain in negotiations. Johnson said: "I have been acutely aware of the strength of feeling about the heritage of the site and I am pleased we were able to negotiate the retention of two historic buildings within this development.
"Our city is a major draw for businesses and that's why it is of critical importance we get on with building the office space needed for the 860,000 new jobs that will be created in the next 20 years."
Nevertheless the scheme had still attracted opponents, who were pinning their hopes on an eleventh hour intervention by Troels Holch Povlsen, a Danish billionaire financier and conservationist, who the Spitalfields Trust told the hearing has offered to buy the site – also known as Norton Folgate – from British Land.
But giving his decision to approve, Johnson said: "I have to say I see no sign of the mysterious Danish philanthropist. He has not made a serious offer."
Earlier, Paul Buckenham the development manager at Tower Hamlets – which turned down the plans in September prompting Johnson to intervene – told the mayor that Povlsen had not submitted any plans for an alternative.
British Land's head of development Nigel Webb dismissed the Dane's intervention and said he had made no firm offer to him to buy the site. "He made a verbal offer but I told him it's not for sale. There was no discussion of numbers. It's a red herring."
And he said a rival scheme put forward by Spitalfields Trust, drawn up by Burrell Foley Fischer, lacked detail. "The proposals are nothing more than watercolour sketches. I don't know if they're viable."
Johnson, who last week was pointedly accused of siding with developers in all 13 applications he has previously called in, said he was "reluctant" to get involved in planning decisions and added: "When I do, it's because it's in the strategic interests of the city."
British Land said they will begin work on the AHMM scheme straight away but Webb had earlier told the mayor it would build an Avanti scheme already consented in 2011 if the AHMM plans were turned down. "We don't want to build out the 2011 scheme but we will if we have to," Webb said. "Our intention is to build out the [AHMM] site as soon as we are able."
Opponents of the plans damned its quality with Buckenham calling it a "monotonous and relentless form of architecture", adding: "The council is committed to regeneration. Places have to evolve and change. [But] the harm caused by the changes is so severe it is not the right option."
And Norton Folgate campaigner Blanche Girouard told the mayor: "You cannot replace a historical area with one whacking great, monstrous complex. There are plenty of other places where faceless, soulless office blocks can fit in. Don't reduce marble London to rubble."
Local resident and SNP MP John Nicholson said if Johnson approved the scheme, the mayor was in danger of ending his tenure – he is due to leave his post in early May – by heralding "an orgy of building destruction" calling the proposals "grim, bland and lifeless".
Other architects working on the scheme include DSDHA, Duggan Morris, Stanton Williams and East who all working on individual buildings.