Historic building will become architecture school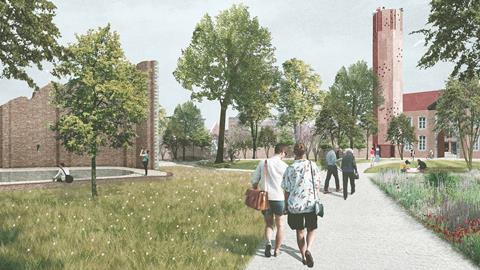 David Kohn Architects has won an international competition to convert an 18th-century religious building in Belgium into an architecture school.
The €8.9m (£8m) scheme for the University of Hasselt is the practice's second major international commission this year, after it landed a 9,600sq m apartment building in Berlin in June.
Working with Belgian firm Bovenbouw Architectuur, Kohn will remodel a "beguinage", which is a convent-like complex of buildings common to the Low Countries where "beguines" – or religious women who did not take vows like nuns – lived in sheltered communities.
The competition brief asked for designs that could accommodate a mix of cultural and educational uses including multi-functional spaces, studios, teaching spaces and an auditorium, and for the wider site to become a public amenity and regional attraction.
Surrounded by a wall, the 6,800 sq m beguinage is in the centre of the town beside the ruins of a church that was damaged in the Second World War. The church's footprint will become a reflecting pool which can be drained and used as a stage.
The only built addition to the site is a panoramic 26m high belvedere in the southern corner.
DKA is looking to recruit a Dutch-speaking architect to lead the project from the London office, with applications closing on September 16.