Former Tata Steel business claims it's on track to make proft in first financial year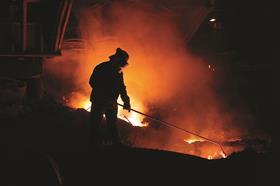 Newly-formed steel manufacturer British Steel has claimed it's on track to make a profit when its financial year ends in March 2017.
The former Tata Steel structural steel business, previously called Long Products Europe, was saved in June after a deal to buy the division was completed by investor Greybull Capital.
Launched on 1 June, the 4,800-strong business says it has hit its key targets in its first 100 days, and is "well on course to complete its return to sustainable growth" after implementing the first stages of a turnaround plan.
It said new and existing customers have been keen to do business with the newly-formed company, including Network Rail, with 96% of the rail it lays in the UK manufactured at British Steel's Scunthorpe plant.
As part of its turnaround plan, British Steel said it is investing heavily in training new highly-skilled steelworkers, adding that 270 new people have joined the company since it relaunched.
British Steel executive chairman Roland Junck said: "The transformation of our business will make sure we maintain the pace of growth and move forward as an outward-looking profit-making business.
"But while our future remains firmly in our hands, the UK steel industry still faces many challenges.
"That is why we are pleased to remain in constructive dialogue with the government about the strategy needed to support British Steel and ensure that it is operating on a level playing field.
"It goes without saying that any such strategy must be long-term and cross all political divides if it is to achieve the goals we all share."