Ian Apsley led architect's restructuring and employee ownership move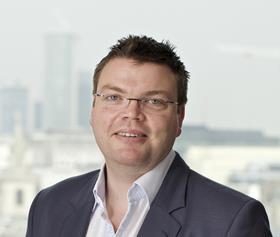 The man who led the transformation of Broadway Malyan into an employee-ownership trust has been appointed the architect's new managing director.
Ian Apsley replaces Gary Whittle who has served a maximum three terms in the post and is standing down after nine years.
The practice, which is working on the tallest tower in Reading, a 22-storey scheme set to go up opposite the Berkshire town's railway station, described it as a "generational shift in the senior management".
Apsley, who joined the practice in 1999 and the main holdings board in 2007, led the Middle East operation for five years before returning to the UK in 2014.
He was elected UK chair in 2016 and oversaw a major restructuring of the UK business, including merging the Liverpool office into the Manchester studio and amalgamating the London and Weybridge offices into a single London headquarters which opened in Waterloo this summer.
He said he wanted to expand the practice, which is known for its commercial work, into new regions internationally, as well as "looking at new areas of expertise within the practice".
In its last set of results, for the year ending April 2018, the firm saw turnover slip 5% to £48m with pre-tax profit slumping nearly one third to £1.7m.