Report runs to less than 100 pages and is expected to be out before Christmas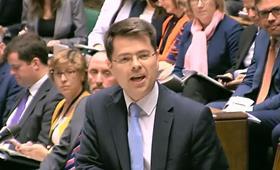 A draft version of the government's response to the Hackitt report has been written up with the document expected on housing secretary James Brokenshire's desk this week, Building understands.
It is believed to run less to 100 pages and has already been pored over by the expert panel set up last year to provide advice to the secretary of state for housing, communities and local government on building safety measures following last June's Grenfell Tower fire.
The four-strong panel is chaired by former London Fire Commissioner Sir Ken Knight with the team running the rule over it last Wednesday.
Panel member Ann Bentley, chairman of Rider Levett Bucknall, said the government's response to the Hackitt report will emphasise the role of competency in construction and seek to designate a national standard for fire engineering.
Speaking at Building Live, Bentley revealed some key themes that came across in the draft response.
She said: "Firstly an emphasis on duty holders, placed by Hackitt in the report, will be accepted.
"Competency will also have lots of emphasis on it – are you competent to deliver this building?"
She also said that the government would seek to create a national standard for qualifications pertaining to fire safety.
"At the moment there are 12 or 13 professional bodies that could give you some kind of accreditation across fire safety, but [government] want a standard, mandatory level.
"And they will be looking to raise standards, rather than settle on the lowest common denominator."
As well as spelling out which materials are covered in an already announced cladding ban, Brokenshire (pictured) will also firm up details of the implementation plan for the recommendations made in Dame Judith Hackitt's report, which was released in May.
It is understood this will include details of the Joint Competent Authority, the new body charged with ensuring buildings are safe from the planning stage, through to construction and occupation.
The government's response is scheduled to be published before Christmas.