Concerns over bureaucracy of proposed system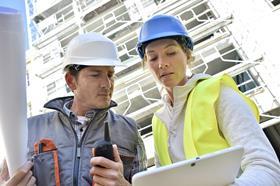 The government's proposed digital voucher system for apprenticeship funding has been given a guarded welcome by the construction industry.
The scheme aims to give employers more flexibility over their choice of training provider for apprentices, a recommendation of the 2012 Richard Review.
Under the system, the employer registers its details on a system operated by the Skills Funding Agency (SFA), which would calculate the discounted rate at which employers can purchase training, according to the skill and industry. The discounts could be up to 100% for 16- to 18-year-olds.
The employer would then pass on the voucher code to the training provider, which would reclaim the value of the voucher from the SFA. No funding would be given directly to employers.
Brian Berry, chief executive of the Federation of Master Builders, said: "The Richard Review first touted the idea of putting the purchasing power back in the hands of the employer [and] today the Government has finally set out a clear direction of travel in terms of its apprenticeship funding reforms. The new digital apprenticeship voucher model is a vast improvement on what was formerly proposed.
"However, we do still have some concerns about the potential for this new system to add additional administrative burden for small firms. Industry and government must work together to ensure this new system does not have a detrimental impact on apprenticeship numbers."
John Cridland, director-general of the CBI, said: "Employers must be in the driving seat when it comes to apprenticeship funding, so we welcome the announcement of the voucher system but await further details."
The government has also announced the minimum wage for apprentices is to go up by 20% to £3.30 an hour.