Experian predicts growth in 2011, but all hinges on return of private sector and depth of cuts
Deep cuts in public spending in next week's Budget could jeopardise a modest return to growth next year, as forecast by the latest figures from Experian.
The firm's Construction Forecast 2010-12 predicts a return to growth for construction over the next two years after last year's record 11.5% fall in output.
The report offers some cheer to the industry while it nervously awaits the impact of next week's Budget on capital spending.
According to Experian's numbers, output will fall by 1.7% in 2010 to £95.5bn (based on 2005 prices) before rising by 1.5% in 2011 and 1.4% in 2012 to £98.3bn.
But Experian's central forecast, that by the time spending cuts begin to bite, private investment in the industry will be in "recovery mode", could be in doubt if more than its forecast £5bn of capital cuts are made.
Kevin Cammack, analyst at Cenkos Securities, said: "There should be an improvement in commercial construction by 2012, but the risk to the industry is what will happen to public sector spending next week."
The recovery will be U-, rather than v-shaped, but is recovery nonetheless

Tony Williams, experian
Experian's forecasts, which warn that slower growth in private investment could easily wipe out the modest increases it has forecast for 2011 and 2012, were also written before this week's downward revision of UK growth by the Office for Budget Responsibility.
As Experian's chart (above right) shows, the real threat is the sharp fall in funding for public non-residential projects in areas like education and health. Although public non-residential output is expected to grow this year by 7%, it is set for a sharp decline in 2011, which is forecast to increase to 15% in 2012 when construction for the London 2012 Olympics comes to a halt.
Tony Williams, a member of Experian's forecasting committee, remains cautiously optimistic about both the pick-up in commercial construction and the government's ability to manage the overall economy. "I don't think the government would risk destroying the recovery by cutting too much. It must make cuts and that basically means the recovery in construction will be U-shaped, rather than V-shaped, but it is recovery nonetheless."
Robin Hardy, analyst at KBC Peel Hunt, added: "The issue is the pace of the rise in commercial work set against the fact that we're likely to see a wholesale cancellation of public sector projects next week. Some cash will find its way into refurbishment work, but we will see substantial cuts, in the teens of percentage terms, for big capital projects."
The government's heavy investment in infrastructure schemes has also played a large part in keeping the industry afloat during the last three years and Experian believes that infrastructure output, based on 2005 prices, will continue to grow over the next two years, albeit at a slower rate. The report shows output rising by 11% in 2010, 7% in 2011 and 3% in 2012.
In common with other recent reports, Experian says demand for office and retail space is beginning to recover, but notes that it will be 2012 before this translates into increased activity and even then the improvement is modest. Also, much of this activity is based around London, so will not provide much sustenance to regional contractors.
Chancellor George Osborne is thought likely next week to set out further dtails of how to bring down the cost of civil engineering projects, along with outlining plans for a Green Investment Bank.
Finally, Experian believes the strong growth in public housing new orders and output seen in the second half of last year will carry on into 2010 and strong growth will be seen in the sector this year, followed by a moderate increase in 2011 and a 2012 fall.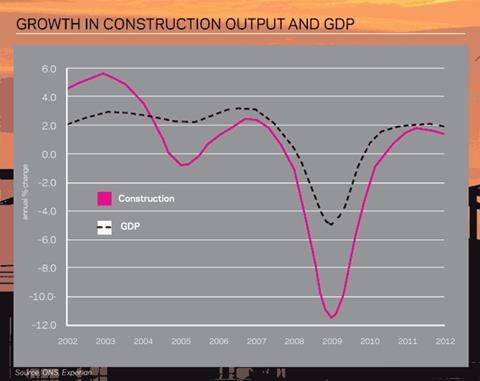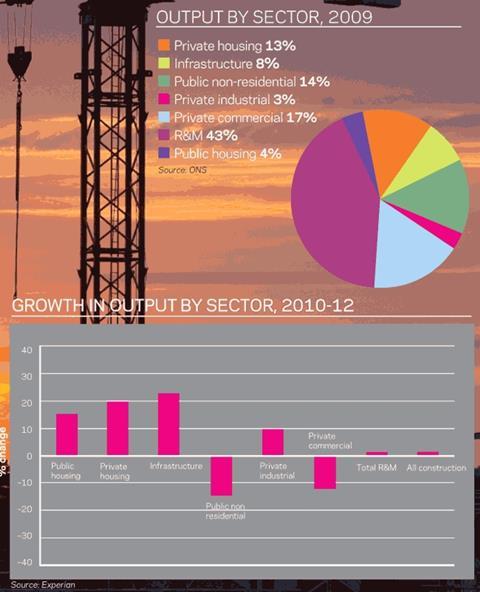 Follow the Budget as it happens at www.building.co.uk