Cameron and Osborne also use letter to the Times to signal housing benefit will be cut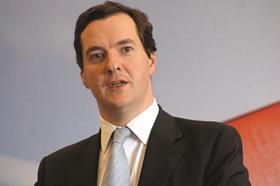 The government plans to raise the inheritance tax threshold to £1m for couples and £500,000 for individuals wanting to pass on their homes to family members.
In a letter to The Times over the weekend prime minister David Cameron and chancellor George Osborne also said that housing benefit is likely to be cut as they battle spiralling welfare costs. Both policies are likely to be officially announced in Osborne's emergency Budget on Wednesday.
Surging house prices mean that by the end of the decade record numbers will face having to pay inheritance tax, with 64,000 more estates liable for the tax, dubbed 'death duties'.
Cameron and Osborne said: "It can only be right that when you've worked hard to own your own home, it will go to your family and not the taxman."
However, critics have said that the tax break stands only to benefit the wealthy and could distort the housing market as people hang on to family homes to pass them on tax free.
It has also been pointed out that the measure is unfair towards single and divorced householders.
Osborne is expected to announce that money raised from the sale of family homes is also protected from death duties.
The £1bn cost of the inheritance tax threshold increase will be offset by a raid on pension pots. Those earning more than £150,000 will have tax allowances on their pension payments tapered off.
Commenting on the plans, RICS head of policy Jeremy Blackburn said: "Targets for owner-occupation, rather than greater capacity across all tenures, is the consistent message we are getting from government.
"While the prime minister and the chancellor have called a plan for 'one nation home ownership', we urgently need to increase genuinely affordable homes for rent in both public and private sectors.
"There are many for whom it is neither possible nor desirable to buy, so encouraging the institutionalised Private Rented Sector (PRS) and freeing up council and housing associations to build this much needed rented accommodation are vital.
"Enforcing local plans, using brownfield sites and more finance for smaller builders, are all steps in the right direction, but need to be part of an overall coordinated strategy."