Exclusive: Tom Wright and two other Atkins design directors found global practice to focus on high-end projects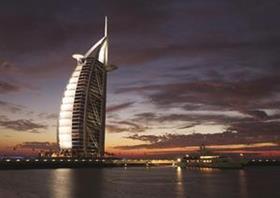 The architect behind the famous sail-like design of Atkins' Burj Al Arab hotel in Dubai has left the firm to set up an international architecture practice in collaboration with two former colleagues, Building can reveal.
Tom Wright, who has been at Atkins for more than 20 years, led the design of the Burj Al Arab (pictured) and was instrumental in establishing the multi-disciplinary giant's architecture team, which now boasts 600 architects operating in 150 countries.
Two of his close colleagues at Atkins, design directors Hakim Khennouchi and Geku George, have also left the firm and, alongside Wright, have become directors of a new limited company, WKK Architects.
The trio are understood to have run Atkins' international architecture division from the UK.
Wright, Khennouchi and George were unavailable for comment but are understood to be in the early stages of establishing WKK, which was incorporated at Companies House in July and is based in Epsom in Surrey, also the home of Atkins' UK headquarters.
A source close to the fledgling firm said it aimed to become a "new force in global architecture", designing high-end schemes in an international market boasting the likes of Atkins, HOK and Populous.
Atkins also confirmed this week that its UK head of architecture, Martin Pease, recently left the firm after six years. Pease has become senior vice president of architecture at Dubai-based Damac Properties, the largest privately-held luxury property developer in the Middle East.
Atkins meanwhile has promoted director Philip Watson to become head of architecture in the UK and another director, Jason Speechly-Dick, to lead its international architecture business.
Earlier this year, it recruited Will Freeman, former head of venue design development at the London Organising Committee of the Olympic and Paralympic Games (Locog), as architecture business director.
A spokesperson for Atkins said Wright had helped the firm "create a world-class architecture team", adding: "We wish him all the best for the future."
The spokesperson said its architecture team had "strong collective knowledge and experience" and was growing, adding: "Staff changes are a normal fact of life for a large company such as Atkins and we have succession plans in place."