Chairman Iain Roberts has been with consultant since 1987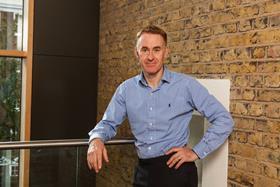 Consultant Buro Four said it expects to draw up a plan of who will eventually succeed chairman Iain Roberts by the end of the summer.
Roberts has been with the firm 31 years and has been chairman – the highest position in the business – since 2012.
The firm recently rejigged its leadership team, which has seen former associate director Ian Higgs become managing director of its largest business, London.
Roberts (pictured) admitted: "Ian [Higgs] is an obvious person to succeed me."
The firm has begun a future strategy initiative called Vision 2022, the results of which it will announce in the next three months.
He added: "Companies should always renew and get new people in. Companies benefit from the energy and new ideas that talented individuals bring into organisations."
The 54-year-old joined Buro Four just two years after it was set up in 1985 and two of the founders, Tom Taylor and Clive Birch, still continue to work for the company on schemes.
Roberts said he would be happy to remain at the 80-strong firm as a project manager and admitted: "I couldn't contemplate working for a rival."
The firm, which is carrying out work on David Chipperfield's scheme to turn the former US embassy in Grosvenor Square into a luxury hotel and flats, said that revenue this year will increase £500,000 to £10.5m.
Roberts said it was eyeing staff numbers of close to 100 over the next two years, with the firm looking at increasing income by £1m from its regional business – which currently stands at £2m – and targeting new sectors including industrial and manufacturing such as automotive engineering.