Northern Powerhouse Partnership says objections are putting thousands of jobs at risk
A business group chaired by former chancellor George Osborne has accused heritage groups opposed to Everton's plans for a new £1bn stadium of "unnecessarily" delaying the scheme and putting thousands of jobs at risk.
Historic England and the Victorian Society have both raised objections to the plan by the Premier League club saying the 53,000-seat stadium will cause irreversible harm to the grade II-listed setting of Bramley Dock in Liverpool.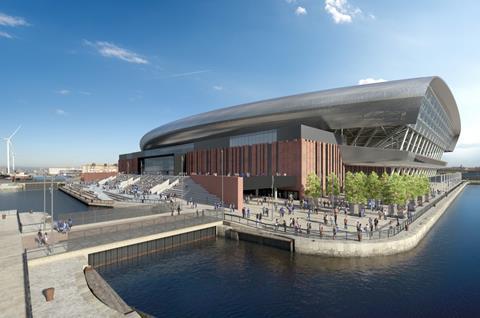 But Northern Powerhouse Partnership (NPP) director Henri Murison, who was appointed by Osborne to lead the organisation in 2017, said the groups were putting heritage concerns above jobs.
He said: "Unnecessarily delaying a £1 billion mega-project such as this – which will support constructions sectors and related trades in the coming years and will create 15,000 jobs – would be a huge mistake at a time when we're facing rising unemployment, with this a material economic intervention in the city region."
And he said invoking worries about diminishing Liverpool's World Heritage Status was doing more harm than good.
"[The] reading of the requirements of the World Heritage Status – which has already served its purpose in establishing its visitor brand – shows the time may have come when its disadvantages for the city outweigh any residual benefits it brings.
"In reality, the power of such a scheme can prove transformative in unlocking the true economic potential of Liverpool and the North in both the short- and long-term."
Laing O'Rourke has been lined up to build the 52,888-seat stadium if it gets the green light.
Revised plans for the job were sent in to the city council last week with project engineering consultant Buro Happold saying that the Dan Meis-designed scheme will "preserve the integrity and heritage assets of the surrounding area for future generations".
Following guidance from Liverpool council on the impact of the waterfront stadium on the surrounding docks, a World Heritage Site, the building has also been slightly reduced in height.
The club, which began the new Premier League season with a 1-0 victory over Spurs yesterday, is hoping construction can start on site in 2021 if given the go-ahead.
Other members of the NPP board include Jim O'Neill, a former commercial secretary to the Treasury during the Cameron government, Manchester Council leader Sir Richard Leese and Transport for North chair John Cridland, a former director-general of the CBI.