Reports say government set to postpone decision on new runway at Gatwick or Heathrow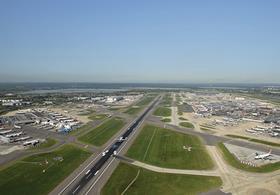 Business groups have hit out at reports that a decision on whether to build a new runway at Gatwick or Heathrow could be delayed again until next year.
According to widespread reports, prime minister David Cameron is likely to postpone making a decision on a new runway citing environmental concerns, following doubts that a new runway at Heathrow – backed by the independent Airports Commission – can meet air quality standards. However, the FT reported he will back a third runway at Heathrow in principle if environmental concerns can be allayed.
The prime minister is reportedly minded to use uncertainty over the testing models for air quality to justify the pause, which would mean another review.
According to some reports the decision could be at least six months away, with Cameron's advisers urging him not to make a decision until the London mayoral elections in May.
Business lobby group CBI has slammed Cameron over the delay, saying his government has shown a "failure of leadership" in making a decision.
CBI director-general Carolyn Fairbairn told BBC Radio: "Our economy is going to run out of airport capacity in the south by 2025.
"The effect on exports is going to be dramatic, a potential £5bn lost exports by 2030 if we don't act. It feels like a real failure of leadership. We need this decision to be taken quickly."
Chris Richards, senior business environment policy adviser manufacturers' association EEF, said: "If a decision on building a new runway has been ducked then it marks another blow for Britain's exporters.
"It would mean that while the government may talk-the-talk about boosting Britain's exports and productivity it fails when it comes to making a firm decision and getting on with it."
Daniel Moylan, aviation adviser to Mayor of London Boris Johnson said: "A decision for Heathrow is actually a decision to do nothing, we're simply embarking on a very long process that the third runway is unlikely to survive because it is not going to meet the legal and political and financial criteria."
A Department for Transport (DfT) spokesperson said: "Our position remains the same. We will come back to Parliament and make a further statement before the end of the year."