John Anderson appointed as new MD of Byrne Group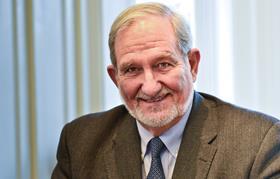 Byrne Group has announced the appointment of John Anderson OBE as its new managing director of Byrne Group.
He will assume overall operational responsibility for the activities of the businesses within Byrne Group reporting directly to the group's chief executive Michael Byrne.
Anderson has previously been director of construction at Chelsfield, a director at Land Securities' property division and managing director of Bovis Lend Lease's European division.
His appointment will allow Tony Dowle to concentrate on his role as group commercial director, the group said. The appointment follows the appointment of Daren Harris as finance director of the group, after the previous FD, Philip Wainwright, left the business after nine months in the post.
Byrne said Anderson "brings a wealth of experience in managing major construction businesses," which will support the group's development.
Byrne Group also reported that its order book stands at over £300m. The firm, which reported a loss of £4m due to problem jobs in its accounts to May 2014, is currently working on a number of projects including the new headquarters for Bloomberg in the City of London and the redevelopment of the BBC White City.