The design watchdog, the CITB and the Homes and Communities Agency to learn their fate next week
The future of design body Cabe was on a knife edge this week as it emerged that the coalition government was soon to reveal the victims of its proposed cull
of quangos.
A number of construction agencies, including the Homes and Communities Agency, the CITB and three development corporations may also be affected by the announcement, expected next week.
The news came as paymaster general Francis Maude, who is leading the review, told the Tory party conference that he had made £3bn of savings in government capital spend and was continuing to renegotiate large contracts.
Sources close to design adviser Cabe admitted the body could be abolished if last-minute decisions go against it, with bosses preparing for funding cuts of up to 50% if it does survive.
One source added that a merger of Cabe with English Heritage, discussed in the summer but thought unlikely to be implemented, was back on the table. The possibility of a number of Cabe's functions being funded by the private sector has also been considered. The source said: "It looks most likely it will survive, but it also looks like it will go to the wire."
Separate sources said the Cabinet Office, which is conducting the review, had earmarked the second half of next week to make the announcement. This week the department said only that an announcement would be made "in due course".
Directors at the Homes and Communities Agency have told partners that it is likely to have to cut staff by half as its role changes and its London operations are subsumed by
the mayor's agencies. However, it is thought the body, which appointed former North-east director Pat Ritchie chief executive this week, is likely to take over the economic
regulation of social landlords as the Tenant Services Authority is scrapped.
The CITB, which gives training grants to companies, may be privatised under the changes. Nick Raynsford, the former construction minister and Labour MP, said: "There needs to be a serious amount of thinking about this because the CITB raises a statutory levy on the industry, but a privatised body could not make payment mandatory. Just privatising won't work."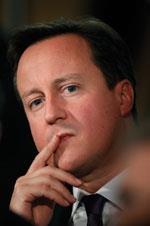 What Cameron said about…
Spending programmes will be cut and jobs lost. Many government departments will have budgets cut by an average of 25% over four years
Free schools brief mention in context of public service reform
Infrastructure pledged support for big projects such as high-speed rail
Construction, housing, schools development, public sector projects nothing