Business secretary slams government's Help to Buy programme and calls instead for 'help to build'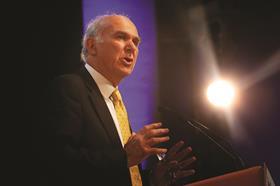 The business secretary has said increasing borrowing to invest in housebuilding and infrastructure is a "no brainer" and has hit out at the government's Help to Buy mortgage guarantee, calling instead for a "help to build" scheme.
In his speech to the Liberal Democrat conference in Glasgow this week, Vince Cable also said the Liberal Democrats would "categorically" refuse to support the Conservative party's plans for another £25bn in cuts to welfare budgets and public services in the next parliament, saying that "more taxes will be needed" to support deficit reduction.
He added there was also a case for increasing government borrowing to boost investment in housing and infrastructure.
He said: "Any politician who tells you that the next government can balance the budget and avoid tax increases is lying to you.
"There is a role too for more public borrowing by central and local government to finance productive investment in transport, housing and innovation.
"When interest rates are so low, borrowing for investment is a no-brainer and is nothing to do with deficit reduction.
"Of course we need to protect the next generation from too much public - as well as private – debt, but the next generation would certainly not thank us for a legacy of underinvestment, overstretched infrastructure and unaffordable homes."
The comments came as the Lib Dems adopted a target of building 300,000 homes a year as official party policy and committed to plans to build 10 garden cities over the course of the next parliament, with five to be built along a reopened Oxford to Cambridge train line.
Cable's comments follow pledges to boost housebuilding at both the Conservative and Labour party conferences, though the Labour party appeared to explicitly rule out further borrowing to fund housing construction.
Speaking in a wider debate on housing at the conference, Cable also hit out at the government's Help to Buy mortgage guarantee scheme, which he said was not helping people buy homes as it was driving up prices.
Cable said there was a "fundamental crisis" in the housing market that could only be addressed by increasing the level of housebuilding.
He said: "How do you stimulate supply? [the chancellor George] Osborne has this policy called Help to Buy which doesn't actually help you buy because it drives up the price and makes it less affordable.
"But what we really need is help to build. It's small builders who desperately need credit and support for training."

More Lib Dem conference highlights
Nick Clegg committed the party to supporting plans to build 50,000 homes in new garden cities along the route of a reopened Oxford to Cambridge train line, as part of a wider drive to build 10 garden cities over the course of the next parliament. Clegg said the Conservatives have "held back the development of garden cities".
The Lib Dems remain opposed to the expansion of airport capacity in the South-east after the party rejected a proposal to support the construction of a new runway at Gatwick. The proposal, put forward by the Lib Dem leadership, would have changed the party's long-standing opposition to airport expansion, but it was rejected in a vote. The move puts the Lib Dems on a collision course with Labour and the Tory party, which have both pledged to back the outcome of the Davies Commission into airport capacity that will report shortly after the 2015 election.
Business secretary Vince Cable unveiled plans to raise apprentice pay by more than £1 an hour. The plan will see apprentice pay rise from £2.73 to £3.79.