Housebuilder increases the number of private homes built, with affordable home completions falling by 25%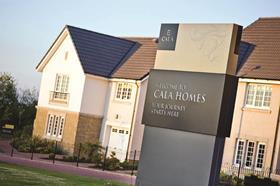 Cala Group has posted record profit for the year to 30 June 2013, despite a slight fall in the average selling price of its homes and a drop in revenue, as the housebuilder increased the number of private homes it completed.
Cala posted revenue of £240.8m for the year, down 5% on £253.7m last year, with pre-tax profit, before exceptional items, of £12.5m, up from £9.1m.
The firm said the rise in profit to record levels was driven by a higher number of private home completions, although this was offset by its average selling price falling slightly from £340k last year to £335k.
The firm completed 850 homes over the financial year (2012: 875), with the number of affordable homes completed falling from 209 last year to 156 - a drop of 25%.
The firm said that the market has "markedly recovered since the turn of the calendar year thanks to increased buyer confidence, improving access to mortgage finance and government initiatives such as Funding for Lending and the first stage of the Help to Buy scheme".
Cala said that, while it had had limited direct benefit from these government measures, they had "stimulated buyer activity across the housing market which in turn has had positive implications on market confidence generally as well as further up the housing chain where Cala operates".
The full-year results come after Cala was acquired by Patron and Legal & General in March, alongside a 7% investment by Cala's existing senior management team.
The firm said the transaction comprised £145.7m of equity, and £68.5m of debt, and valued Cala at £214.2m.
Alan Brown, Cala Group chief executive, said: "Cala has delivered another excellent performance during 2013 with a record profit for Cala Homes, improved gross margins and significant further progress in developing the length and quality of our landbank.
"To top it off, all this was achieved while going through a complex acquisition process which resulted in CALA securing the support of two blue chip financial backers that will enable us to realise our growth ambitions.
"This investment has already begun to bear fruit and we are now able to develop land within our existing landbank at a faster rate while simultaneously seeking to acquire additional plots in high growth areas such as the East of Scotland and the South of England.
"This in turn is allowing us to take on more staff and open more sites.
"As a result of all this, I am very excited about the outlook for CALA and am confident in our ability to more than double the size of the business by 2017."