Housebuilder looks to expand its market share in the South-east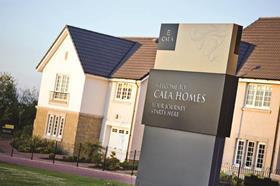 Housebuilder Cala has announced it is launching two more regional businesses in an effort to increase its market share in the South-east.
The firm said the two new divisions would cover the home counties and would "complement" its existing businesses.
One will cover the northern home counties including Essex, Hertfordshire, Bedfordshire, Cambridgeshire and London Boroughs down to Zone 3.
The second will cover the southern home counties including North Kent, West Sussex, East Sussex, Hampshire, Surrey and South London Boroughs.
Alan Brown, chief executive of Cala, said: "With a strengthened housing market and improving consumer confidence, our strategy during the first half of 2014 will be focused on increasing market share within the South East of England, where demand for new homes is at its greatest."
Cala also reported the average selling price for private reservations of its homes had risen 4.9% to £361,000 between 1 July 2013 and 31 January 2014.
It said its strong results had been achieved with little benefit from the government's Help to Buy scheme because of its premium position in the market.
The housebuilder said the housing market had shown "tangible signs of improvement during 2013", which it said had continued into 2014.
In its statement the firm said: "This positive trading performance during the first half of the current financial year gives the board every confidence that Cala will be able to report a strong, year-on-year improvement in its financial results for the full year to June 2014."