Business leaders including CBI director general Carolyn Fairbairn and Richard Threlfall sign open letter to Chancellor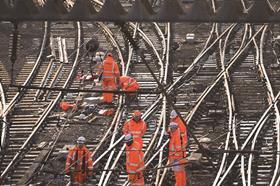 Business leaders have called on the government to reverse its decision to axe plans to establish the National Infrastructure Commission in law.
In an open letter to chancellor Philip Hammond, business leaders urged the government to reconsider its "surprise decision" and "introduce the Bill promised in the Queen's Speech in the next Parliamentary Session".
The letter was signed by CBI director-general Carolyn Fairbairn, KPMG's Richard Threlfall, British Chambers of Commerce acting director-general Dr Adam Marshall and London First director of strategy and policy John Dickie.
It comes after the government quietly shelved plans to establish an independent National Infrastructure Commission (NIC) in law, in a revised Neighbourhood Planning bill published last month.
The open letter said: "Just as the [Office for Budget Responsibility] needs statutory protection to ensure that it is properly independent of government and properly accountable to the public with the sanction of Parliament, so does the Commission.
"The overwhelming response of the Government's extensive consultation was in favour of it becoming a statutory body, and its National Infrastructure Assessment being required to be laid before and voted on by Parliament."
Despite being dropped from the Neighbourhood Planning Bill, it remains unclear whether the NIC will eventually be given statutory independence.
A previous version of the bill – going by the longer title of Neighbourhood Planning and Infrastructure Bill – had included a provision to put the NIC on an independent statutory footing.
And a Whitehall insider told Building last month that civil servants still expect the NIC to get statutory powers: "As far as I'm aware there's still the commitment to do that and that hasn't changed. We're still working with it, it's about long term planning."
A Treasury spokesperson refused to confirm whether or not the NIC would be given statutory powers and said the government was still considering how the NIC could support its industrial strategy.
But the spokesperson added: "The National Infrastructure Commission has a crucial role to play in setting out the country's infrastructure priorities and it has already made major contributions to transport and smart power through its first three reports.
"We remain fully committed to the Commission and are considering how it can best support the government's new industrial strategy."