University is searching for two new partners to build around 180 homes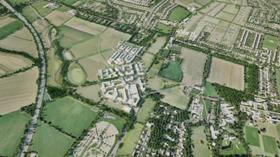 The University of Cambridge has launched a search for two new housing developer partners to build around 180 homes at its huge 5,000-home North West Cambridge development.
The university - which last month entered into an agreement with Countryside and Hill to build the first 400-home residential phase of the scheme - said it was looking for partners to develop two plots for 100 and 80 units respectively, as well as 35 new apartments for use by the university.
Bill Nearney, commercial director for the North West Cambridge Development, said: "With the benefit of a high quality environment, a strong economy and a high demand for housing supply, Cambridge enjoys one of the best performing residential markets in the country.
"This is an exceptional and unique opportunity to work with the University to deliver new homes of exquisite quality and design that will help to shape the future of Cambridge."
The masterplan for the 150-hectare mixed-use development includes 3,000 homes (50% created and retained by the university as affordable homes for staff), 2,000 student bedspaces, a local centre with a supermarket and retail units, university primary school, nursery, community centre, doctors surgery, hotel and senior living.
Interested development partners should register at www.nwcambridge.co.uk/development-opportunities or contact Geoff Leyland or Sarah Cullen at Bidwells by email: Geoff.leyland@bidwells.co.uk or sarah.cullen@bidwells.co.uk