Prime minister warns European Investment Bank loans would be hard to replace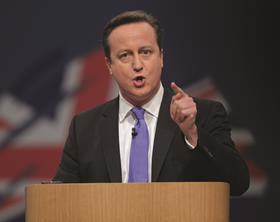 A significant source of infrastructure funding that has invested £16bn in projects across the UK over the past three years would be lost with a vote to leave the European Union, David Cameron has warned.
The prime minister said that a Brexit vote would "terminate" the UK's membership of the European Investment Bank (EIB), and jeopardise the future funding of major infrastructure projects.
Cameron said this month alone the EIB had announced funding of £280m for the expansion of facilities at University College London and £700m for the Thames Tideway Tunnel. However, he stopped short of naming schemes he felt to be most at risk in the wake of a vote to leave the EU in June 23's referendum.
"Vital projects across every region of the UK have been financed by the EIB," he said.
"These make a huge difference locally, nationally, and sometimes globally – from the purchase of 65 new super express trains for the East Coast Main Line; to investment in development of emission-control technologies in Hertfordshire; to extension of the M8 motorway between Edinburgh and Glasgow; to the expansion of Oxford University's research and teaching facilities.
"Not only would leaving the EU see us wave goodbye to this crucial funding – with a smaller economy hit by new trading barriers and job losses, it's unlikely we'd be able to find that money from alternative sources
"Infrastructure affects the competitiveness of every business and the prosperity of every family in the country – but a leave vote on 23rd June risks putting the brakes on the infrastructure investment we need and shifting our economy into reverse."
Dowing Street said the EIB lent a record €7.77bn to the UK last year, a figure representing 11.2% of its overall lending to EU countries.