The CIOB using the hashtag #SaluteOurForces on social media promoting construction management careers to those leaving the military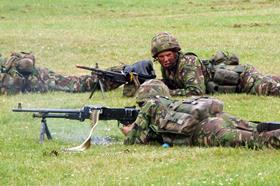 The Chartered Institute of Building (CIOB) has launched a campaign to encourage former armed forces personnel into construction management careers.
In the build up to Armed Forces Day this Saturday, the CIOB is trying to encourage ex-service personnel to take up a career in construction management, and is promoting a number of resources across social media using the hashtag #SaluteOurForces.
According to the CIOB, current projections suggest over 20,000 people leave the armed forces every year, and the latest employment forecasts predict construction will need almost 224,000 new recruits by 2019.
It estimates management skills will be among the most sought after, with almost 17,000 managers expected to be needed over the next four years as growth in construction continues.
Bridget Bartlett, deputy chief executive at the CIOB, said: "Men and women who have served in the military often possess excellent leadership, team working, project management and problem solving skills, all of which are highly sought after in the construction industry.
"There are plenty of opportunities for those leaving the armed forces to begin a new career in construction and that is not limited to trade skills but also at the management level."
She added: "What is encouraging is to see employers within the industry readily engaging with the armed forces community and we are keen to work with them and the military to increase the accessibility of construction management careers."
House builder Persimmon Homes recently announced a formal recruitment drive to retrain up to 500 ex-military personnel, while research by contractor Morgan Sindall suggests 10% of its employees either have direct or family connections to the military.