Retail and leisure space above Crossrail station to open tomorrow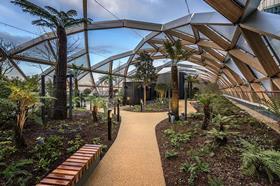 The first retail and leisure space to be created as part of the Crossrail transport project opens to the public tomorrow at Canary Wharf.
Crossrail Place, a leisure destination with new shops, restaurants and a tropical roof garden (pictured), sits within the same structure that will house Canary Wharf Crossrail station and is the first part of the Crossrail network to open in London.
The seven storey building is over 300m long, and contains 10,000m2 of retail and leisure space as well as a 4,160m2 public garden designed to celebrate Canary Wharf's maritime heritage.
The upper four levels containing the retail and leisure space and the uppermost level housing the roof garden will open tomorrow, while the bottom two levels of the structure containing the station concourse and platforms won't open until 2018.
Chief administration officer at Canary Wharf Group Camille Waxer said: "Canary Wharf is a diverse and vibrant place and we're always getting demand for more retail and leisure.
"The opening of Crossrail Place with brands including Everyman Cinema, Sports Bar & Grill and Bespoke Cycle, will cater for the demands of our consumers, including those working on the estate and from the local community.
"It's very important for us to offer a varied experience to our loyal customers and we look forward to welcoming them at the new Crossrail Place development."