BCS Design specialises in infrastructure design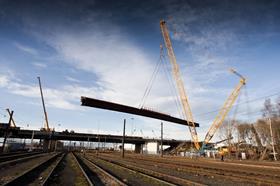 Capita has acquired 40-strong engineering design firm BCS Design.
BCS Design has offices in Leeds and London and specialises in civil structural, geotechnical engineering and surveying services in markets including rail, highways, industrial and utilities.
Some of BCS's recently completed projects include depots, platform extensions, motorway improvements and power supply enhancements, as well as signalling infrastructure for 290km of operational railway in the South West.
BCS will be integrated into Capita's 4,200-strong property and infrastructure business.
Simon Birchall, executive director at Capita Property & Infrastructure, said: "BCS Design is an excellent cultural fit for our business. It reflects our commitment to growth both organically and through the acquisition of strong and innovative businesses that expand our existing teams and provide the best solutions for our clients. BCS Design is a well-established, award-winning business in key target markets for us and I welcome its people to our business."

Steve Osbaldeston, managing director of BCS Design said: "We are excited to be joining Capita. Working as part of a major consultancy will allow us to invest in the future growth of our business, further develop our staff, and target larger projects and programmes - as well as giving our clients access to the skills and transformational expertise of a market-leading business."