Carillion-led consortium beats rival team led by Interserve to Royal Liverpool hospital contract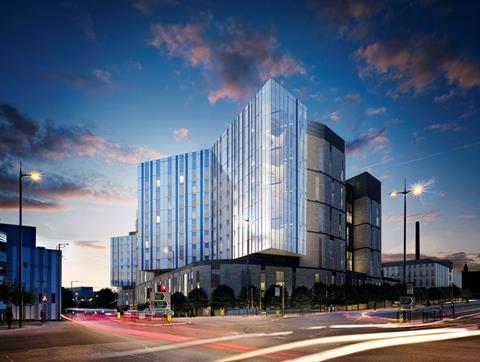 A consortium led by Carillion has beaten off competition from a rival team led by Interserve to be chosen for the £335m Royal Liverpool University Hospital.
Carillion's team, including architects HKS and NBBJ, engineers Capita and TPS Consult, and M&E contractor Crown House, has been chosen as preferred bidder for the long-delayed project.
The consortium beat off competition from the Horizon consortium which includes Interserve, John Laing and architect Sheppard Robson.
The controversial scheme - which has been repeatedly delayed but is now expected to reach financial close next January - was originally a PFI project but now includes a only £211 worth of PFI funding after critics including a Commons select committee questioned its value for money.
The £124m remainder of the funding will come from the Department of Health and the Trust.
A spokeswoman for the Trust said it had "made every effort to reduce the amount of money funded by PFI".
She added: "This means that the annual payment made by the Trust to our PFI partner is less than six per cent of our current turnover – one of the lowest in the NHS."
The new build scheme, featuring only single en-suite rooms for patients, will be built next to the current hospital on the same site, and will open in 2017.
Once services transfer, the current Royal will be demolished and will eventually be replaced by a "world class" Liverpool BioCampus, according to the NHS Trust.
Richard Howson, chief executive of Carillion, said the firm was "delighted" by the win.
"We believe the new hospital will enhance the excellent care given by staff and the fantastic reputation of the hospital, its services and its research and development," he said.
"We are proud to be working in Liverpool again and we are looking forward to working with staff, patients and the public during construction."
The GMB union had lobbied against the appointment of Carillion because of the contractor's previous involvement in blacklisting.
This included a protest in the city held on Tuesday.
Justin Bowden, GMB national officer said: "While this is disappointing it is not entirely unexpected as the decision was made by central government who seem oblivious to the requirements of ethical procurement.
"GMB will be scrutinising Carillion's every move in a city where 130 local workers were blacklisted and have yet to be compensated. Liverpool is the city that fought for justice for the Hillsborough victims and never walks away."