Cabinet minister says figure could go up further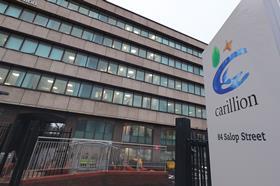 Government has committed £150m to fund the liquidation of Carillion, it has been revealed.
Speaking at a liaison select committee meeting yesterday, cabinet office minister David Lidington said the official receiver had been granted £150m of public funds to run Carillion's liquidation.
Lidington said: "What the Committee will see if they have not already is that a supplementary estimate has been laid before the House today, which provides £150m to support the work of the official receiver."
But Lidington said the sum was "not a definite cost to the public purse as a consequence of Carillion's failure".
He added: "What it is is the wherewithal, the working capital for the official receiver to go about his duties. Clearly what any net figure will be depends in significant measure on the price that the official receiver is able to obtain from some of the contracts that he will be looking to dispose of to other companies.
"Whereas Carillion overall has gone into liquidation, there are some elements of that business that certainly would seem to be viable, and where there would be going concerns that could be transferred for a price."
Chief executive of the civil service John Manzoni agreed the final cost to the taxpayer could move depending how much the receiver managed to claw back from selling Carillion's contracts.
Lidington also confirmed while it was not footing the bill to bail out Carillion subcontractors, it had helped secure assistance for struggling firms.
Lidington said: "[Business secreatry Greg Clark] and his team have also persuaded the banks to put together up to about £1bn of support in the form of loans, credit and other financial support to affected businesses and HMRC is giving affected businesses a grace period rather than expecting them to pay immediate tax bills."