Carillion boss reveals plans to develop relationship with one of China's largest contractors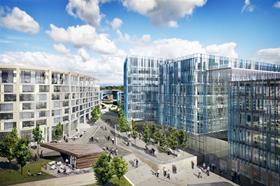 Carillion is lining up joint venture bids for up to two further UK contracting jobs with a major Chinese contractor.
Carillion is already in joint venture with Beijing Construction Engineering Group (BCEG) on Manchester's mixed-use £800m Airport City scheme (pictured) and this week Carillion chief executive Richard Howson told Building the firm was considering teaming up with the Chinese contractor on other projects.
"We're considering one or two projects [with BCEG] off the back of [Airport City]", Howson said.
"We're looking at a couple of things with them. Part of our long-term model is to develop our relationships with key partners."
An influx of investment in UK property from China in recent years – including China's biggest bank, Commercial Bank of China, investing £650m in Manchester Airport City – has prompted speculation Chinese construction firms could follow them into the market.
BCEG is thought to be the first Chinese main contractor to enter the market, although Chinese specialist cladding firms Far East Facade and Yuanda are already established in the UK.
Howson revealed its plans with BCEG as Carillion posted full-year results for the year to 31 December 2013, with group revenue dropping 7% to £4.1bn, down from £4.4bn the previous year.
The firm posted underlying pre-tax profit fall of £175m, down 13% from £220m the previous year.
However, when taking into account the £43m hit it took after restructuring its energy services business last year, pre-tax profit fell 33% to £111m.
Carillion's construction business in the UK and Canada shrank 17% to £1.1bn, down from £1.3bn, while underlying operating profit – after stripping out the £43m in restructuring costs – was down 39% to £44.4m.
The contractor said it had now completed the downscaling of its construction business to "align" it to the reduced size of the market.
Howson said the construction division would "certainly start to grow now" and defended the timing of the downscaling, saying its strategy was to be "incredibly selective" on bids, helping it achieve a 4.2% margin for the period, which he described as "best in class".
During the period Carillion won the £400m first residential phase of the redevelopment of Battersea Power Station and Howson said the firm "may" bid for later phases.
Carillion also announced contract wins worth a combined £520m – a £150m leisure and retail development in Dubai and support services deals for Canada Natural Resources, Royal Bank of Scotland and Arqiva, worth £370m between them.
Carillion won £4.9bn of additional work in 2013, topping up its order book to £18bn, unchanged from the previous year.