Firm first failed last year in wake of contractor's collapse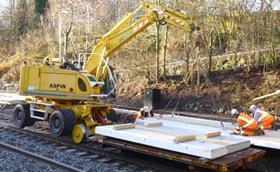 Ground engineering specialist Aspin Group has gone into administration for the second time in 18 months.
The company originally entered a pre-pack administration in April last year after being hit by a £800,000 loss when Carillion went bust.
It was rescued when US investor Sandton Capital Partners bought the company but a statement on Aspin's website confirmed the firm has failed again.
It said: "On 11 July 2019 the directors of the Company appointed Sean Bucknall and Brian Burke both of Quantuma LLP and Andrew Hosking of Quantuma LLP as joint administrators of the company."
The latest accounts filed at Companies House for the 18 months to January 31 2018 show Aspin Group made a pre-tax loss of £10m from a turnover of £39.8m.
In the accounts, which were filed last December, the firm said the firm would be concentrating on its core rail and highways markets as part of the turnaround plan. Aspin said it had 215 staff on its books during the period.
When the firm went into administration last year, a statement of proposals from the firm's then-administrator Deloitte revealed it was owed £800,000 when Carillion went bust.
At the time, it had already asked Deloitte to find a buyer for the group but admitted this search was hobbled by Carillion's implosion.
Deloitte said: "During [this] process one of the group's key customers was placed into liquidation. At the time of the appointment, the group had an application exposure of £500,000 in addition to ongoing work exposure of £300,000. This bad debt placed further strain on the cash flow."
Deloitte said the group's losses had been driven by errors in project management and pricing, resulting in the completion of projects that were low-margin or loss-making. It added that Aspin had identified it needed an additional £3m in funding.
Sandton Capital Partners was one of two firms to show an interest in buying the Hertfordshire-based firm. The New York-based private equity group bought the company's five trading subsidiaries which also include McGrattan Piling and Supplies and Rogers Structural Investigation.