Construction giant's collapse a nail in the coffin of felled Aspin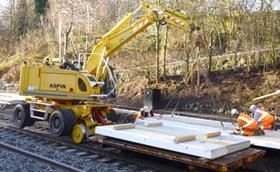 Collapsed ground engineering firm Aspin was owed £800,000 by Carillion when it went into administration nearly seven weeks ago.
A statement of proposals from the firm's administrators Deloitte has revealed the struggling firm was owed £800,000 when Carillion went bust.
When Carillion went under the struggling engineer, which had a turnover of £32.5m last year, had already engaged Deloitte to carry out an accelerated merger and acquisition (AMA) process to find a buyer for the group.
The statement said: "During the AMA process one of the group's key customers was placed into liquidation. At the time of the appointment, the group had an application exposure of £500,000 in addition to ongoing work exposure of £300,000. This bad debt placed further strain on the cash flow."
Deloitte was brought in to sell Aspin after the firm was hit with cashflow difficulties and said the group's losses had been driven by errors in project management and pricing, resulting in the completion of projects that were low-margin or loss-making.
Deloitte's report said Aspin had identified it needed an additional £3m in funding.
While the firm's position was further damaged by Carillion's failure, Sandton Capital Partners and one other buyer came forward, with Sandton being chosen.
The US private equity group bought the company's five trading subsidiaries.
The purchased firms were Aspin Group Ltd, Aspin Construction Group Ltd, Aspin Consulting, McGrattan Piling and Supplies and Rogers Structural Investigation.
Following negotiations, and consideration of the company's solvency, it was decided that the deal be concluded through a pre-pack administration process.
In order to lessen any impact on its trading subsidiaries, Aspin Group Holdings Limited changed its name to Castlegate Nexus Limited on 19 February.
The shares were officially transferred to Sandton on 21 February, the same day Castlegate Nexus was put into administration.
Last week, another firm caught up in Carillion's collapse, Irish builder Sammon Group, was given protection from its creditors by the High Court, which appointed an interim examiner to the company last week.
According to the Irish Times, the contractor, which reported turnover of €72m (£63m) in 2016, was owed €8m (£7m) by Carillion for work on schools projects when the firm went bust in January.
Examinership is a process in Irish law where protection from the court is obtained to assist the survival of a company. It allows a company to restructure with protection from creditors with the approval of the High Court.