MPs worry that staff who have lost their jobs are waiting too long to get money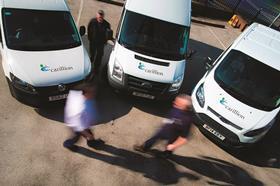 The Labour MPs in charge of the inquiry into Carillion's collapse have raised concerns that axed Carillion are facing delays claiming redundancy and statutory notice pay.
In a letter to Insolvency Service chief executive Sarah Albon, business committee chair Rachel Reeves and her counterpart at the work and pensions committee Frank Fields, said former employees of the failed contractor had written to them about the red tape they had been facing.
The letter, which the MPs sent yesterday, said: "While it is welcome news that over 6,600 jobs have been saved since the collapse of Carillion, we are writing with regard to the at least 989 jobs which have been made redundant as of 12 February.
"Our committees have received representations from Carillion employees who have been made redundant but are now waiting for the necessary information required to make claims for redundancy pay and statutory notice pay.
"We are concerned that there has been no timescale given for when they can expect to receive the required information, and that it may take up to a further six weeks before they will then receive the payments.
"We ask that the Insolvency Service ensures that the necessary information for employees who have been made redundant is provided as an urgent priority, and that you confirm to the Committees when this has been done and the timescales for payments to be made."
The latest redundancy figures were confirmed earlier this week, when the Insolvency Service announced 59 staff from the firm's construction arm had been axed.
But it was also revealed deals to transfer prison and defence FM contracts, such as cleaning and catering, to new firms had secured the jobs of more than 4,400 employees of the failed contractor.
The inquiry into the failure of the construction and services conglomerate is set to heat up again next week when Carillion's auditor KPMG comes fronts up to answer questions on its role in the company's collapse.
Michelle Hinchliffe, head of audit, and Peter Meehan, audit partner, at KPMG are expected to come under fire from the MPs for KPMG's decision to sign off on Carillion's 2016 results. Michael Jones, internal audit partner at Deloitte, is also expected to face questions.
Pensions Regulator chief executive Lesley Titcomb and her colleagues Nicola Parish and Mike Birch are also scheduled to front the inquiry.