But Official Receiver says more than 2,000 roles have been saved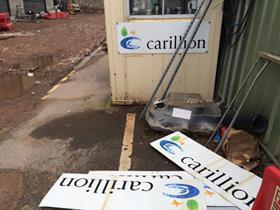 Nearly 1,000 Carillion staff have lost their jobs, the Official Receiver has confirmed.
Nearly a month after the firm collapsed, the Official Receiver said a further 101 staff are being made redundant meaning 930 jobs have gone since it went bust on 15 January,
A spokesperson for the Official Receiver said the latest jobs to go were "a mix of back-office functions and engineering support roles that new suppliers no longer require".
But there was better news for 1,200 employees who have been told their jobs are safe.
"These roles are connected to the delivery of both public and private contracts and cover services for a city council, as well as a range of facilities management services," the spokesperson added."
The news means that more than 2,000 jobs have been saved so far.
Carillion employed more than 40,000 staff globally around half of whom worked in the UK. Its head office in Wolverhampton had around 400 staff.
A Facebook support group for Carillion staff has attracted more than 2,000 members.
Called Carillion Colleagues Support – Employee led, the group was created by staff the day after the firm collapsed.