Firm due to meet lenders tomorrow about bailout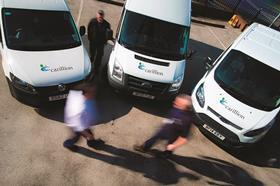 Carillion has said it does not know why its share price shot up more than a quarter yesterday.
The stricken contractor saw its price close 26% up on Friday's trading following news over the weekend the firm will meet banks this week including Barclays, HSBC and Santander about a potential refinancing deal.
But the firm issued a statement to the Stock Exchange this morning and said: "The Group is not aware of any material developments that support this share price increase."
The Wolverhampton-based business is due to meet lenders tomorrow about a rescue package with speculation growing that it will have a recovery plan in place by the time new chief executive Andrew Davies joins the business in less than two weeks' time.
Just before Christmas, the firm said it was in "constructive discussions with stakeholders regarding its options to reduce net debt and recapitalise and/or restructure the Group's balance sheet. These discussions are progressing well."
It added that it expected a rescue package, likely to be a debt for equity swap, to be completed by the end of March.