Collapse in contractor's share price follows its profit warning last month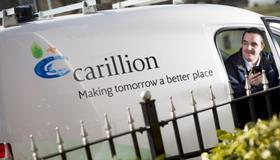 Troubled contractor Carillion is to leave the London Stock Exchange FTSE 250 index next month following the collapse in its share price.
After issuing a profit warning in July and admitting that it would have to make writedowns of more than £800m on a number of contracts, investors dumped the firm's stock, sending its share price plummeting and reducing its market value from £1bn to around £250m.
Shares in the group were trading at 46p this morning, down from the near-300p figure of a year ago.
Carillion announced in July that it had appointed accountants EY to conduct a review of some of its operations, as it sought to put the business back on track, a move which could include an injection of funds from shareholders.
The group had been due to reveal its half year figures earlier this month, but instead announced that it was delaying them. It has now said it will publish its interims on 29 September.
Meanwhile housebuilder Berkeley is to rejoin the FTSE100 next month after a nine-month absence.
Carillion has been contacted for comment.