Leaked letter from specialist contractors group to government highlights 'huge risks' its members face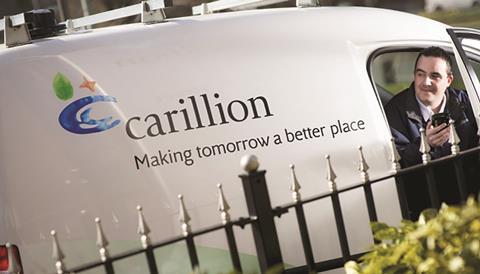 One of the leading associations representing specialist contractors has issued an urgent call for greater protections for subcontractors, in the wake of Carillion's problems.
Building has seen a letter from Trevor Hursthouse, chair of the Specialist Engineering Contractors' (SEC) Group, to business secretary Greg Clark, sent immediately after the problems at £5bn-turnover Carillion emerged in July, saying "the recent case of Carillion" revealed the "financial frailty" of the whole construction industry. This, it adds, "exposes thousands of smaller companies and subcontractors to huge risks" if main contractors run into the kind of financial problems that have hit the country's second-biggest builder.
Analysts raised questions about Carillion's future after it was forced to write down more than £1bn in its interim results in September, leaving it needing to plug a hole of up to £800m in its balance sheet.
Carillion's problems – which interim chief executive Keith Cochrane says could take five years to resolve – have come in the same year as serious profit warnings at Interserve and Galliford Try and a £79m loss for Bouygues UK.
Hursthouse said the slow payment culture means suppliers "effectively fund many construction projects", and that Carillion specifically "annually procures billions of pounds from its supply chains with a balance sheet that shows it cannot meet those liabilities without imposing unreasonable and lengthy credit periods".
Carillion has £400m tied up in a supply chain financing scheme under which many suppliers have to pay small charges to access their money in less than 120 days.
Hursthouse called for the use of project bank accounts – whereby money is held in a ring-fenced bank account before payment to suppliers – to be extended to all public sector contracts. Currently only contracts with central government departments and in Northern Ireland and Scotland must use project bank accounts. He said the current system exposes "otherwise healthy businesses […] to failure".
Hursthouse's letter emerged as SEC Group chief executive Rudi Klein hit out at Carillion following publication of its interim results, which included another £200m of losses not flagged in July. Klein said Carillion is "looking for reasons not to pay" its suppliers, with SEC Group members reporting "increased incidences of it holding back money".
A spokesperson for Carillion said: "We value the close relationship we have with our suppliers and we continue to be committed to business as usual with all of our partners and suppliers, including adherence to all payments terms."
Analysts have valued the amount Carillion needs to raise to fix its balance sheet as £440m–£800m.
A spokesperson for the Department for Business, Energy and Industrial Strategy said: "The government believes prompt and fair payment in the construction sector is absolutely vital, that is why we have already taken a number of steps to support businesses.
"We have encouraged greater use of project bank accounts and introduced the Prompt Payment Charter. Alongside this, we have made a commitment to consult on the practice of retention payments in the construction industry, as well as the effectiveness of the measures relating to payment in the Amendments to the 2011 Construction Act."