Hospital nearly finished more than four years after contractor went bust – and five years late
The hospital in Liverpool left half-built when Carillion went bust is on track to open next summer, the NHS trust behind the project has revealed.
The Royal Liverpool Hospital job, which Carillion won in 2013, was originally supposed to open in 2017.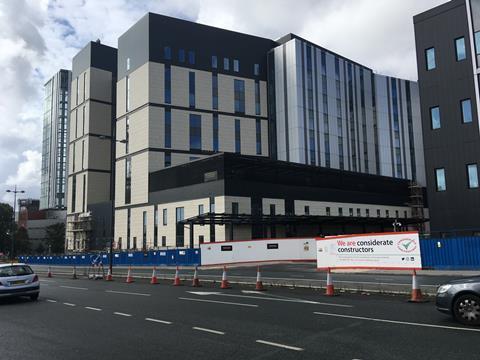 Carillion revised this date to February 2018 but, in December 2017, told the Liverpool University Hospitals NHS Foundation Trust that it was going to miss the revised the deadline. The firm went into liquidation in January 2018.
In December 2019 it was confirmed that the hospital, which is now being built by Laing O'Rourke, would not open until 2022 at the earliest. There were concerns that the pandemic might have further delayed the scheme.
Now, trust board papers have revealed that the project is still on schedule to open next year - with handover expected between March and May.
> Analysis: Feeling run down? Fixing the NHS's languishing estate
> Building podcast: The legacy of Carillion, the controversy of the Tulip, and the problem of plastic
Steve Warburton, trust chief executive, said: "As I reported to the [Liverpool health and wellbeing board] committee, the remedial structural works have been completed, construction for our new hospital remains on track for a spring 2022 handover, with a summer move in.
"There is work ongoing to finalise plans for this move, and how the service integrations will contribute toward improved care for our patients."
The completion of remedial work on the project is a major milestone for the scheme, which has been plagued by inherited problems ever since Carillion went under.
In the weeks after the construction conglomerate went bust, former Carillion chief executive Richard Howson told MPs, when giving evidence to the parliamentary inquiry into Carillion's collapse, that the firm had to carry out work repairing cracked beams at a cost of £20m. There were still issues with these beams after this remediation work.
Other issues later revealed include the fact that Carillion had fitted non-compliant cladding to the hospital and that the ventilation systems in the operating theatres were inappropriate.