Scheme now not set to be finished until 2022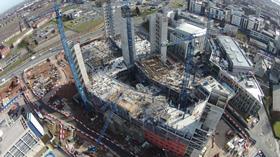 The chief executive of the NHS Trust in charge of building the hospital in the West Midlands Carillion was constructing when it went bust has admitted it is now unlikely to be ready until 2022.
Toby Lewis had previously said the £350m hospital at Smethwick had been given a new opening date of 2020 following Carillion's implosion in January.
But in a report to board members, Lewis said: "We continue to press for an early restart and therefore the most rapid route to a single acute hospital, which in our view could be achieved by 2020.
"Some options being considered make a 2022 opening date more likely, with certainty not achieved until early next year owing to chosen procurement routes in an uncertain supplier market."
Skanska is believed to the preferred replacement contractor but in the update, the trust said the appointment was still awaiting sign-off from the Treasury.
Lewis added: "What is apparent is that the site is deteriorating now and that rework costs will therefore be significant. We continue to press for an early restart."
The cost of the hospital has gone up by £125m with a business recovery plan put together by Carillion just days before it went under saying the job would cost it a further £119m and was 47% complete.
In its plan, Carillion said the job would finish next June.