Developer will build nine Thames-side towers between five and 48 storeys high on site of Building's office.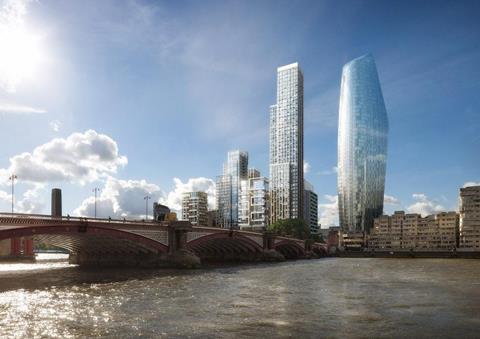 Carlyle Group will submit plans for a cluster of nine towers between five and 48 storeys high on London's South Bank this week.
The 1.4 million sq ft mixed-use development has been designed by PLP Architecture and will replace the existing office buildings next to Blackfriars train station - Samson House and Ludgate House, the current home of Building magazine.
The development will include 940,000 sq ft of residential (492 homes), 450,000 sq ft of offices, 25,000 sq ft of retail and 18,500 sq ft of cultural space, including a cultural pavilion on the edge of the River Thames.
Carlyle Group said the tallest building of 48 storeys would complement the proposed 52-storey One Blackfriars tower on the other side of Blackfriars Road, which is being developed by Berkeley, creating a "new physical gateway" for south London.
The scheme will also create 750 construction jobs, Carlyle Group promised.
Building's publisher UBM is vacating Ludgate House in 2014 to move into the currently under-construction 240 Blackfriars Road nearby.
Mark Harris, managing director at The Carlyle Group, said: "This is a once in a lifetime opportunity to truly regenerate and reinvigorate a large, important and extremely well located, but underutilised, site right on the River Thames.
"Our aim is to create a new and vibrant destination area through a phased, deliverable regeneration project that will deliver many new, and much needed, homes for London's workforce, and bring thousands of jobs to the area.
"Carlyle is known internationally for its ability to deliver successful and high quality schemes, and is ideally placed to undertake the redevelopment in consultation with local stakeholders.
"We plan to replace the existing impermeable block structures with a new, highly accessible urban quarter complete with new residential, retail and office facilities, as well as cultural centres and large new public spaces right on the riverbank.
"We are also very excited by the prospect of reopening east-west access by reinstating historic walkways, while at the same time helping to create a landmark physical gateway into Southwark."