Stricken firm, blighted by spiralling costs on energy-from-waste jobs, first mooted sale last year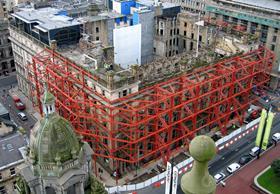 A leading construction analyst has said Interserve will have to resurrect plans to sell its RMD Kwikform business to bring in cash after it admitted that it was unlikely to meet its financial covenants for this year.
The firm put the equipment services division, which specialises in formwork and ground shoring, on the block early last year only for then chief executive Adrian Ringrose to take down the for sale sign eight months later following a strategic review.
But the option of sale should be reconsidered, according to Cenkos analyst Kevin Cammack who said a disposal would rake in more than £200m.
Its disastrous foray into the energy-from-waste market continues to dog new chief executive Debbie White with the firm now putting the cost of getting out of the sector at close to £200m.
Ringrose had originally said it would cost £70m in May last year but was then forced to revise this upwards to £160m earlier this year. Last week, White added another £35m to the bill which includes a job in Glasgow that it was told to leave last November after its client Viridor said it had "repeatedly failed" to meet its delivery milestones.
As well as Glasgow, Interserve has energy from waste schemes – which involves turning household rubbish into energy – at five other sites including Derby, Rotherham and Peterborough.
Cammack said: "Structurally I believe that Interserve has [around] £250m more debt than is appropriate for the cash flow capacity of the ongoing group.
"There are tough decisions to be made around the banking situation. Namely, in my opinion, Interserve needs new equity or business/asset sales worth £250m minimum. Like it or not that looks like the RMD Kwikform to me."
According to its last of results, RMD Kwikform, which has worked on both the Liverpool Street and Whitechapel Crossrail station sites, posted revenue of close to £224m with operating profit coming in at £49m. It has been led by managing director Ian Hayes since the middle of last year.
In a trading update last week, issued days after the firm confirmed it was speaking to lenders, Interserve also warned that profit for the overall group in the second half of the year to be around half the level of the £61.3m reported in the second half of 2016.