CBI says firms in emerging green sector need reassurance that government is serious about tackling climate change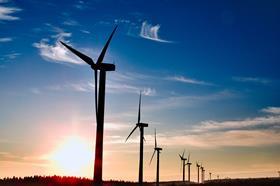 The government's cuts to renewable energy subsidies are sending the wrong signal to investors in the fledgling green industries, the Confederation of British Industry (CBI) has warned.
Head of the CBI employers' group John Cridland has said firms must be given assurances that ministers mean to tackle climate change, after cuts were imposed on a number of schemes.
Cridland said: "The green economy is an emerging market in its own right, brimming with opportunity.
"Yet, with the roll-back of renewables policies and the mixed messages on energy efficiency, the government risks sending a worrying signal to businesses.
"We need all countries to pull in the same direction at the Paris Climate Summit (in November) to give firms the certainty and confidence they need to invest in the green economy for the long run".
A Treasury spokeswoman said: "Our support has already driven down the cost of renewable energy significantly. As costs continue to fall it becomes easier for parts of the renewables industry to survive without subsidies."