Peter Hall, the celebrated planner, urbanist and geographer, has died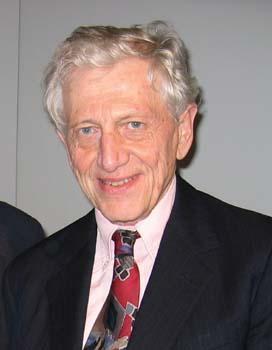 The Bartlett Professor of Planning and Regeneration and president of the Town and Country Planning Association was 82.
He was widely recognised as the most influential planning expert in the country and wrote or co-authored dozens of seminal works, the most recent of which, Good Cities, Better Lives, was published to acclaim last year.
In January he told Ben Rogers, director of think tank Centre for London, that he had written around 2,100 articles and 50 books during a career spanning six decades.
Urbanist Hank Dittmar led the tributes.
He said: "Peter Hall is a truly international figure in planning at the level of Raymond Unwin, Jane Jacobs and Lewis Mumford.
"His influence and his thoughts about planning and cities have been influential all over the world."
Richard Saxon, former chairman of BDP, said: "Peter was a giant. He saw the future of London in particular with great clarity. Projects like Crossrail and HS2 are built on his insights."
Kate Henderson, chief executive at the Town and Country Planning Association, said: "There is no doubt that we have lost a moral and intellectual giant of the planning movement in highest tradition of Ebenezer Howard and Frederic J. Osborne.
"There is also no doubt that Peter would have raised a wry smile to our current grief and pressed us to move on with his drive for sociable, inclusive and sustainable cities.
"Despite his great modesty, Peter was one of the very few thinkers capable of a credible grand vision of the future but it is his humanity and kindness which will be so sadly missed by the all of us at the TCPA."
Hall was knighted in 1998 for his services to the Town and Country Planning Association and was named as a 'Pioneer in the Life of the Nation' by the Queen in 2003.
He has also received a number of other awards, including the Gold Medal of the Royal Town Planning Institute, and in 2005 was awarded a Lifetime Achievement Award for his contributions to urban regeneration and planning by the then deputy prime minister Gordon Brown.
This story first appeared on Building Design
Tribute from the RTPI
"The RTPI is sad to learn news of the death of Sir Peter Hall, who is considered by many to be one of the foremost planners and academics of his generation. Equally at home discussing geography, architecture, history, political science, welfare economics, social psychology as well as planning he combined a highly distinguished academic career with advising successive governments on planning policy.
Amazingly knowledgeable and erudite, he was the international expert in the theory and practice of planning – holding fourteen honorary doctorates from universities in the UK, Sweden and Canada. He wrote and edited over 50 books, many of which have been translated in other languages and which will influence planning and planners for generations to come.
He had a glittering career spanning decades and continents; he was recipient of the RTPI Gold Medal, the the Founder's Medal of the Royal Geographical Society, the Balzan Prize, winner of the Regional Studies Prize, and the Vautrin Lud International Geography Prize. He was knighted in 1998 for services to the Town and Country Planning Association.
Always generous with his time to members of the Institute, he has made an enormous contribution to the RTPI over many years, no less so than in our centenary year when despite challenges to his health he provide the keynote speeches at RTPI events in Newcastle and London.
Cath Ranson, president of the RTPI, said: "My thoughts are with his family, friends and colleagues. His death is a massive blow to the profession and to academia but above all else to those who knew and loved him most.
When we have a little more time to reflect on his achievements, I am sure that we will recognise that Sir Peter was truly a 'national treasure', equally cherished, loved and admired. An intellectual colossus, he straddled theory and practice, managing to make planning not only interesting and accessible to any audience he wanted to, but fun too. Yet the true mark of his influence is that he was one of the very few academics whose name is instantly recognisable by those outside his discipline. He will be very sadly missed by everyone in the planning family."
Trudi Elliott CBE, chief executive of the RTPI, added: "Sir Peter was a a remarkable man, a great planner and a true friend to RTPI. He had an international reputation and has left a legacy across the globe. I had the pleasure of hearing him speak twice recently at our centenary events, and still he could spellbind and was so personally lovely with it."
This first appeared on the RTPI website