Programme manager on World Cup asked to intervene on build project that 'could cost up to 4,000 lives'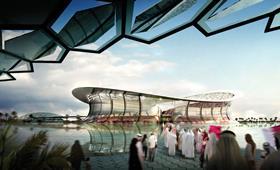 Qatar 2022 World Cup programme manager CH2M Hill has been called on to take firm action to prevent the exploitation of migrant workers amid warnings that thousands may die unless standards improve.
While dedicated World Cup construction has yet to begin, the International Trade Union Confederation warned last week that the construction programme could claim the lives of as many 4,000 migrant building workers based on current practices.
The warning came as the Nepalese government disclosed this week that 70 Nepalese labourers have died on construction sites in Qatar since the start of 2012, with a large number of the fatalities due to heart failure or accidents at work.
Michael Stephens, the Qatar-based deputy director of think tank the Royal United Services Institute, told Building that CH2M Hill's role as programme manager on the Qatar 2022 World Cup programme obliged it to play a key role in improving standards in partnership with Qatari authorities.
He said: "Abuses are often down to individuals rather than systems. Because the employer holds the power, it can be as simple as an individual foreman who decides to refuse workers water.
"However, CH2M Hill has quite a large remit […]. It's not on for them to abdicate responsibility because they play a large role in setting the gold standard for labour rights."
A spokesperson for CH2M Hill said: "As we do in all areas of our operations we will conduct ourselves and deliver our work as a company that is committed to ethics and social responsibility."
He said CH2M Hill only had control over labour forces on certain Qatari projects it works on and that there had been no fatalities on the three construction sites that it supervises, through its Halcrow division, within the Lusail City development – a £28bn city being built from scratch that will include the new stadium that will host the World Cup final.
"Where we do have control we take the strongest possible action to protect migrant labour," the spokesperson said.
Meanwhile, the GMB union has offered to take part in a team of international inspectors that is being put together by the International Trade Union Confederation (ITUC) to examine the condition of workplaces and labour camps in Qatar.
The ITUC wants to ensure that conditions are improved for workers in Qatar to stop the high death rates of workers ahead of the World Cup construction programme.
Today, GMB said it had offered to join the inspection team and would write to UK construction firms working in Qatar, including Carillion, Balfour Beatty and Drake & Scull, for a meeting in Doha to discuss guarantees of decent and safe work for both their directly-employed staff and those working for their sub-contractors.
Bert Schouwenburg, GMB international officer, said: "GMB welcomes the ITUC proposal to put together a team of experienced inspectors for workplaces and labour camps in Qatar ahead of the 2022 World Cup.
"GMB is ready to participate in any inspections that may take place."
Sharan Burrow, ITUC general secretary, said: "Labour inspection in Qatar has failed miserably, and the government's announcement that would put new staff into a system that doesn't work is futile.
"FIFA should make it clear to Qatar that the 2022 World Cup cannot take place there if workers' rights and working standards are not respected.
"Unions save workers' lives every day, and FIFA should welcome that expertise being used to good effect in Qatar."

Reaction to Qatar deaths
EC Harris, part of the CH2M Hill-led delivery team, said it was "concerned" by the reports and that the health and safety and conditions of workers on projects it was involved with was "of the utmost importance". "We are committed to supporting the Qatari authorities to ensure that the highest standards of health, safety and welfare are developed," the firm said.
Arup, part of the CH2M Hill-led delivery team, referred all enquiries to its client CH2M Hill.
Foster + Partners, designer of Lusail stadium, which will host the Qatar 2022 final, declined to comment.
Gardiner & Theobald, lead cost manager on Qatar 2022, and Zaha Hadid, designer of Al-Wakrah stadium, were unavailable for comment.
Aecom, which is working as design consultants on Al-Wakrah Stadium, said: "Construction of the stadium has yet to commence. Qatar has strict labour, health & safety laws, and the Qatar 2022 Supreme Committee is committed to ensuring these are met. Safety on our projects for our clients and staff is always our number one priority."
Meanwhile, David Pilling, global head of regulation policy and ethics at RICS, said the issues in Qatar "show just how important ethics are and should be to the property profession". "Trust is hard won but very easy to lose," he said.